Zillow Group, Inc. (ZG) Issues Quarterly Earnings Results
Zillow Group, Inc. (NASDAQ:ZG) announced its quarterly earnings results on Tuesday. The technology company reported $0.19 earnings per share (EPS) for the quarter, topping the consensus estimate of $0.17 by $0.02, Bloomberg Earnings reports. The business had revenue of $282.00 million for the quarter, compared to analyst estimates of $276.57 million. Zillow Group had a negative return on equity of 0.40% and a negative net margin of 4.47%. The company's quarterly revenue was up 25.6% on a year-over-year basis. During the same quarter in the prior year, the company earned $0.17 earnings per share.
Shares of Zillow Group (ZG) traded down $0.75 on Tuesday, hitting $40.22. The company had a trading volume of 382,539 shares, compared to its average volume of 339,528. The company has a debt-to-equity ratio of 0.14, a current ratio of 6.70 and a quick ratio of 6.70. Zillow Group has a one year low of $32.63 and a one year high of $50.91.
Several research analysts have issued reports on ZG shares. Zacks Investment Research lowered Zillow Group from a "buy" rating to a "hold" rating in a report on Tuesday, September 12th. KeyCorp initiated coverage on Zillow Group in a report on Monday, July 17th. They issued an "equal weight" rating on the stock. ValuEngine lowered Zillow Group from a "hold" rating to a "sell" rating in a report on Wednesday, September 6th. Deutsche Bank AG restated a "hold" rating and issued a $50.00 target price (up previously from $44.00) on shares of Zillow Group in a report on Monday, August 7th. Finally, Macquarie initiated coverage on Zillow Group in a report on Monday, September 25th. They issued a "neutral" rating on the stock. One research analyst has rated the stock with a sell rating, eight have issued a hold rating and nine have given a buy rating to the stock. The stock has a consensus rating of "Hold" and an average price target of $46.15.
WARNING: This piece of content was first reported by Watch List News and is the sole property of of Watch List News. If you are viewing this piece of content on another site, it was illegally stolen and reposted in violation of international trademark and copyright laws. The legal version of this piece of content can be accessed at https://www.watchlistnews.com/zillow-group-inc-zg-issues-quarterly-earnings-results/1686433.html.
About Zillow Group
Zillow Group, Inc operates real estate and home-related information marketplaces on mobile and the Web in the United States. The company offers a portfolio of brands and products to enable people find information about homes and connect with local professionals. Its brands focus on various stages of the home lifecycle, including renting, buying, selling, and financing.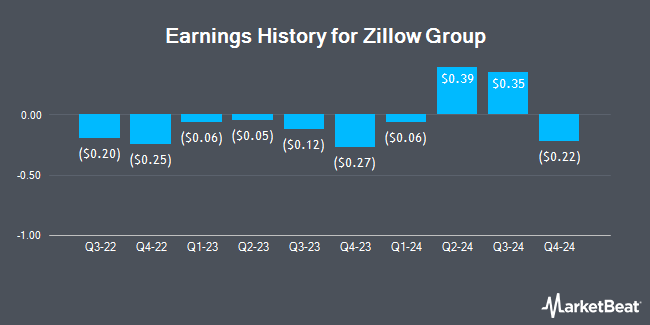 Receive News & Ratings for Zillow Group Inc. Daily - Enter your email address below to receive a concise daily summary of the latest news and analysts' ratings for Zillow Group Inc. and related companies with Analyst Ratings Network's FREE daily email newsletter.