Zacks Investment Research Downgrades FS Investment (FSK) to Hold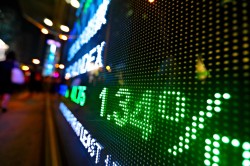 Zacks Investment Research lowered shares of FS Investment (NYSE:FSK) from a strong-buy rating to a hold rating in a research report released on Tuesday morning.
According to Zacks, "FS KKR Capital Corp. is a business development company. It invests primarily in the senior secured debt and subordinated debt of private middle market U.S. companies. FS KKR Capital Corp., formerly known as FS Investment Corporation, is based in Philadelphia, United States. "
Separately, ValuEngine cut shares of FS Investment from a sell rating to a strong sell rating in a research report on Wednesday, January 2nd.
Shares of
FS Investment stock
traded down $0.03 on Tuesday, hitting $5.98. 41,923 shares of the company traded hands, compared to its average volume of 3,521,693. The stock has a market cap of $1.44 billion, a P/E ratio of 7.21, a PEG ratio of 2.50 and a beta of 0.96. The company has a debt-to-equity ratio of 0.75, a current ratio of 1.94 and a quick ratio of 1.94. FS Investment has a 52 week low of $5.09 and a 52 week high of $8.24.
FS Investment (NYSE:FSK) last released its quarterly earnings data on Wednesday, November 7th. The company reported $0.24 earnings per share (EPS) for the quarter, beating the consensus estimate of $0.20 by $0.04. The firm had revenue of $94.52 million for the quarter, compared to analysts' expectations of $96.66 million. FS Investment had a negative net margin of 3.73% and a positive return on equity of 9.57%. As a group, equities analysts expect that FS Investment will post 0.81 EPS for the current year.
In other news, CEO Michael C. Forman sold 1,122,607 shares of FS Investment stock in a transaction that occurred on Friday, December 21st. The shares were sold at an average price of $5.15, for a total transaction of $5,781,426.05. The transaction was disclosed in a legal filing with the SEC, which is available at this hyperlink. Company insiders own 1.07% of the company's stock.
A hedge fund recently bought a new stake in FS Investment stock. Sound Income Strategies LLC purchased a new position in FS Investment Co. (NYSE:FSK) during the 4th quarter, according to the company in its most recent 13F filing with the Securities and Exchange Commission (SEC). The fund purchased 111,287 shares of the company's stock, valued at approximately $785,000. Institutional investors and hedge funds own 29.47% of the company's stock.
FS Investment Company Profile
FS Investment Corp. is a externally managed, non-diversified, closed-end management investment and finance company that invests primarily in the debt securities of private middle market U.S. companies. Its objectives are to generate current income and, to a lesser extent, long-term capital appreciation.
Recommended Story: What is a closed-end mutual fund (CEF)?

Get a free copy of the Zacks research report on FS Investment (FSK)
For more information about research offerings from Zacks Investment Research, visit Zacks.com
Receive News & Ratings for FS Investment Daily - Enter your email address below to receive a concise daily summary of the latest news and analysts' ratings for FS Investment and related companies with MarketBeat.com's FREE daily email newsletter.