Zacks: Analysts Anticipate Tonix Pharmaceuticals Holding Corp (TNXP) to Announce -$3.35 EPS
Analysts forecast that Tonix Pharmaceuticals Holding Corp (NASDAQ:TNXP) will announce ($3.35) earnings per share (EPS) for the current fiscal quarter, according to Zacks. Zero analysts have made estimates for Tonix Pharmaceuticals' earnings. The lowest EPS estimate is ($4.20) and the highest is ($1.50). Tonix Pharmaceuticals posted earnings of ($6.70) per share in the same quarter last year, which suggests a positive year-over-year growth rate of 50%. The company is expected to issue its next earnings report on Monday, March 11th.
On average, analysts expect that Tonix Pharmaceuticals will report full-year earnings of ($23.50) per share for the current fiscal year, with EPS estimates ranging from ($25.50) to ($20.50). For the next fiscal year, analysts expect that the company will post earnings of ($9.48) per share, with EPS estimates ranging from ($11.50) to ($7.50). Zacks' earnings per share averages are a mean average based on a survey of sell-side analysts that that provide coverage for Tonix Pharmaceuticals.
Tonix Pharmaceuticals (NASDAQ:TNXP) last issued its earnings results on Friday, November 9th. The company reported ($5.70) earnings per share (EPS) for the quarter, beating analysts' consensus estimates of ($6.10) by $0.40.
TNXP stock
traded down $1.07 during midday trading on Thursday, reaching $3.15. 766,578 shares of the company's stock traded hands, compared to its average volume of 164,888. Tonix Pharmaceuticals has a 52 week low of $3.03 and a 52 week high of $51.10. The stock has a market capitalization of $5.99 million, a price-to-earnings ratio of -0.11 and a beta of 1.30.
An institutional investor recently raised its position in Tonix Pharmaceuticals stock. Renaissance Technologies LLC grew its position in shares of Tonix Pharmaceuticals Holding Corp (NASDAQ:TNXP) by 66.0% in the second quarter, according to its most recent 13F filing with the Securities and Exchange Commission (SEC). The institutional investor owned 179,300 shares of the company's stock after purchasing an additional 71,300 shares during the period. Renaissance Technologies LLC owned approximately 2.15% of Tonix Pharmaceuticals worth $798,000 at the end of the most recent quarter. Hedge funds and other institutional investors own 5.56% of the company's stock.
Tonix Pharmaceuticals Company Profile
Tonix Pharmaceuticals Holding Corp., a clinical-stage biopharmaceutical company, focuses on discovering and developing pharmaceutical products to treat serious neuropsychiatric conditions and to improve biodefense. Its lead product candidate is TNX-102 SL or Tonmya that is designed as a bedtime administration for posttraumatic stress disorder (PTSD), which is in Phase 3 study in the military-related PTSD population.
Featured Article: What impact do institutional investors have on markets?
Get a free copy of the Zacks research report on Tonix Pharmaceuticals (TNXP)
For more information about research offerings from Zacks Investment Research, visit Zacks.com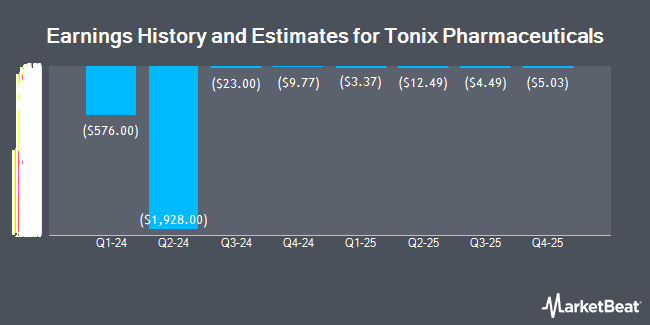 Receive News & Ratings for Tonix Pharmaceuticals Daily - Enter your email address below to receive a concise daily summary of the latest news and analysts' ratings for Tonix Pharmaceuticals and related companies with MarketBeat.com's FREE daily email newsletter.