Wells Fargo & Company MN Has $8.03 Million Stake in Korea Fund Inc (KF)
Wells Fargo & Company MN increased its position in Korea Fund Inc (NYSE:KF) by 3.7% in the third quarter, according to its most recent disclosure with the SEC. The institutional investor owned 198,385 shares of the company's stock after purchasing an additional 7,080 shares during the period. Wells Fargo & Company MN owned 3.44% of Korea Fund worth $8,026,000 at the end of the most recent reporting period.
Separately, Aberdeen Asset Management PLC UK acquired a new position in Korea Fund in the second quarter valued at approximately $908,000. 53.39% of the stock is owned by hedge funds and other institutional investors.
Korea Fund Inc (NYSE KF) opened at $41.27 on Friday. Korea Fund Inc has a 52 week low of $31.80 and a 52 week high of $44.64. The company has a market capitalization of $229.37, a P/E ratio of 7.98 and a beta of 0.66.
The business also recently announced an annual dividend, which will be paid on Friday, January 5th. Shareholders of record on Tuesday, December 26th will be paid a $0.2258 dividend. The ex-dividend date is Friday, December 22nd. This represents a yield of 0.51%. Korea Fund's payout ratio is currently 4.45%.
ILLEGAL ACTIVITY NOTICE: "Wells Fargo & Company MN Has $8.03 Million Stake in Korea Fund Inc (KF)" was published by Watch List News and is the sole property of of Watch List News. If you are accessing this piece of content on another domain, it was illegally stolen and reposted in violation of U.S. and international copyright laws. The original version of this piece of content can be viewed at https://www.watchlistnews.com/wells-fargo-company-mn-has-8-03-million-stake-in-korea-fund-inc-kf/1788288.html.
Korea Fund Company Profile
The Korea Fund, Inc is a closed-end non-diversified management investment company. The Fund's investment objective is to seek long-term capital appreciation through investment in securities, principally equity securities of Korean companies. The Fund enters into contracts that contain a range of representations that provide general indemnifications.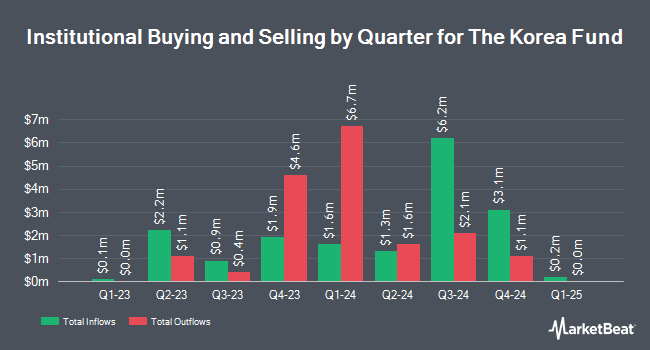 Receive News & Ratings for Korea Fund Daily - Enter your email address below to receive a concise daily summary of the latest news and analysts' ratings for Korea Fund and related companies with MarketBeat.com's FREE daily email newsletter.