Waste Connections Inc (WCN) Given New C$90.00 Price Target at Barclays PLC
Waste Connections Inc (TSE:WCN) had its price target lowered by Barclays PLC from C$96.00 to C$90.00 in a research note issued to investors on Thursday. The firm currently has an overweight rating on the stock.
Several other research firms also recently issued reports on WCN. Royal Bank Of Canada reiterated an outperform rating and set a C$135.00 price objective on shares of Waste Connections in a research note on Monday, June 19th. TD Securities boosted their price objective on shares of Waste Connections to C$136.00 and gave the stock a hold rating in a research note on Friday, April 28th. Finally, Credit Suisse Group boosted their price objective on shares of Waste Connections to C$75.00 and gave the stock an outperform rating in a research note on Thursday, June 22nd. One analyst has rated the stock with a hold rating and four have given a buy rating to the stock. The company currently has an average rating of Buy and a consensus target price of C$87.00.
Shares of Waste Connections (TSE:WCN) opened at 80.87 on Thursday. Waste Connections has a 12-month low of $62.83 and a 12-month high of $88.94. The firm has a market capitalization of $21.30 billion and a price-to-earnings ratio of 68.77. The firm's 50-day moving average is $83.91 and its 200-day moving average is $79.34.
TRADEMARK VIOLATION NOTICE: This article was reported by Watch List News and is the sole property of of Watch List News. If you are viewing this article on another website, it was copied illegally and reposted in violation of US & international copyright & trademark law. The correct version of this article can be viewed at https://www.watchlistnews.com/waste-connections-inc-wcn-given-new-c90-00-price-target-at-barclays-plc/1463298.html.
The firm also recently disclosed a quarterly dividend, which will be paid on Tuesday, August 22nd. Shareholders of record on Tuesday, August 8th will be paid a dividend of $0.12 per share. The ex-dividend date of this dividend is Friday, August 4th. This represents a $0.48 annualized dividend and a yield of 0.59%.
In other Waste Connections news, Director Susan Lee acquired 600 shares of the firm's stock in a transaction on Tuesday, May 16th. The stock was bought at an average cost of C$124.78 per share, for a total transaction of C$74,868.00. Also, insider Steven F. Bouck sold 15,000 shares of the business's stock in a transaction that occurred on Wednesday, June 7th. The stock was sold at an average price of C$96.05, for a total transaction of C$1,440,750.00. Over the last quarter, insiders have sold 20,400 shares of company stock valued at $1,962,636.
Waste Connections Company Profile
Waste Connections, Inc is a solid waste services company in North America. The Company provides waste collection, transfer, disposal and recycling services in markets in the United States and Canada. The Company operates through six segments: Southern segment, Western segment, Eastern segment, Canada segment, Central segment and E&P segment.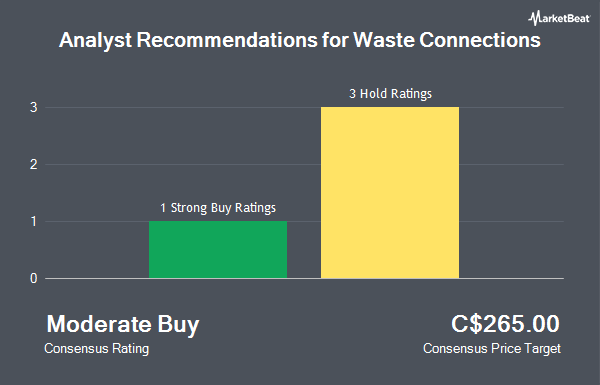 Receive News & Ratings for Waste Connections Inc Daily - Enter your email address below to receive a concise daily summary of the latest news and analysts' ratings for Waste Connections Inc and related companies with Analyst Ratings Network's FREE daily email newsletter.