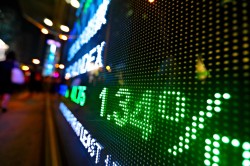 ViacomCBS (NASDAQ:VIACA) will be releasing its earnings data after the market closes on Wednesday, February 24th. Investors that are interested in participating in the company's conference call can do so using this link.
Shares of NASDAQ VIACA opened at $66.00 on Tuesday. The company has a market capitalization of $40.74 billion, a PE ratio of 30.00 and a beta of 1.55. The company has a debt-to-equity ratio of 1.29, a quick ratio of 1.45 and a current ratio of 1.69. The company's fifty day moving average price is $49.91 and its 200 day moving average price is $38.39. ViacomCBS has a 1 year low of $13.12 and a 1 year high of $67.10.
The company also recently disclosed a quarterly dividend, which will be paid on Thursday, April 1st. Shareholders of record on Monday, March 15th will be issued a $0.24 dividend. The ex-dividend date of this dividend is Friday, March 12th. This represents a $0.96 dividend on an annualized basis and a yield of 1.45%.
Separately, TheStreet raised shares of ViacomCBS from a "c+" rating to a "b-" rating in a research note on Thursday, January 28th.
About ViacomCBS
ViacomCBS Inc operates as a media and entertainment company worldwide. The company operates in four segments: TV Entertainment, Cable Networks, Filmed Entertainment, and Publishing. The TV Entertainment segment distributes a schedule of news and public affairs broadcasts, and sports and entertainment programming; produces, acquires, and/or distributes programming, including series, specials, news, and public affairs; operates online content networks for information and entertainment; and streaming subscription services.
Further Reading: Equity Income
Receive News & Ratings for ViacomCBS Daily - Enter your email address below to receive a concise daily summary of the latest news and analysts' ratings for ViacomCBS and related companies with MarketBeat.com's FREE daily email newsletter.