ULTRA ELECTRONI/ADR (UEHPY) Declares $0.08 Semi-Annual Dividend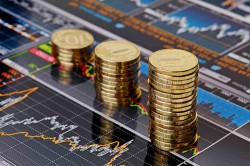 ULTRA ELECTRONI/ADR (OTCMKTS:UEHPY) announced a Semi-Annual dividend on Thursday, August 9th, Zacks reports. Shareholders of record on Friday, August 31st will be given a dividend of 0.083 per share on Tuesday, October 9th. The ex-dividend date is Thursday, August 30th.
ULTRA ELECTRONI/ADR stock remained flat at $$10.28 during mid-day trading on Friday. The company's stock had a trading volume of 3 shares, compared to its average volume of 211. ULTRA ELECTRONI/ADR has a twelve month low of $8.23 and a twelve month high of $11.75.
About ULTRA ELECTRONI/ADR
Ultra Electronics Holdings plc, together with its subsidiaries, provides various solutions and products in the defense and aerospace, security and cyber, transport, and energy markets. The company operates in three segments: Aerospace & Infrastructure, Communications & Security, and Maritime & Land.
Featured Story: Price to Earnings Ratio (PE)
Receive News & Ratings for ULTRA ELECTRONI/ADR Daily - Enter your email address below to receive a concise daily summary of the latest news and analysts' ratings for ULTRA ELECTRONI/ADR and related companies with MarketBeat.com's FREE daily email newsletter.