UDG Healthcare (UDG) Price Target Increased to GBX 880 by Analysts at Peel Hunt
UDG Healthcare (LON:UDG) had its target price raised by Peel Hunt from GBX 860 ($11.57) to GBX 880 ($11.84) in a report published on Thursday morning. Peel Hunt currently has an add rating on the stock.
Several other brokerages also recently commented on UDG. N+1 Singer restated a hold rating and issued a GBX 770 ($10.36) target price on shares of UDG Healthcare in a research note on Tuesday, August 15th. Liberum Capital restated a hold rating and issued a GBX 884 ($11.90) target price on shares of UDG Healthcare in a research note on Wednesday, November 15th. Jefferies Group raised their target price on UDG Healthcare from GBX 830 ($11.17) to GBX 855 ($11.51) and gave the company a hold rating in a research note on Wednesday, October 4th. Numis Securities downgraded UDG Healthcare to a reduce rating and set a GBX 765 ($10.30) target price for the company. in a research note on Thursday, November 9th. Finally, Stifel Nicolaus restated a hold rating and issued a GBX 815 ($10.97) target price on shares of UDG Healthcare in a research note on Thursday, November 30th. One research analyst has rated the stock with a sell rating and six have assigned a hold rating to the company. UDG Healthcare has an average rating of Hold and a consensus price target of GBX 826.43 ($11.12).
Shares of UDG Healthcare (UDG) traded down GBX 2.16 ($0.03) during trading on Thursday, reaching GBX 853.84 ($11.49). The company's stock had a trading volume of 1,270,000 shares, compared to its average volume of 720,200. UDG Healthcare has a 52-week low of GBX 632.50 ($8.51) and a 52-week high of GBX 963 ($12.96).
The firm also recently declared a dividend, which will be paid on Monday, February 5th. Investors of record on Thursday, January 11th will be given a $0.10 dividend. This is a boost from UDG Healthcare's previous dividend of $0.04. The ex-dividend date of this dividend is Thursday, January 11th. This represents a yield of 0.84%.
TRADEMARK VIOLATION NOTICE: This report was first reported by Watch List News and is owned by of Watch List News. If you are reading this report on another site, it was copied illegally and reposted in violation of United States & international trademark & copyright laws. The correct version of this report can be viewed at https://www.watchlistnews.com/udg-healthcare-udg-price-target-increased-to-gbx-880-by-analysts-at-peel-hunt/1752464.html.
UDG Healthcare Company Profile
UDG Healthcare plc, formerly United Drug plc, is a healthcare services provider in the Republic of Ireland, the United Kingdom, North America and Continental Europe. The Company operates in three segments. The Ashfield Commercial & Medical Services segment is engaged in the provision of sales, marketing and healthcare communications services to pharmaceutical companies, and it also provides sales teams, healthcare communications, telesales, nurse educators, medical information, pharmacovigilance, regulatory and event management services to over 300 healthcare companies.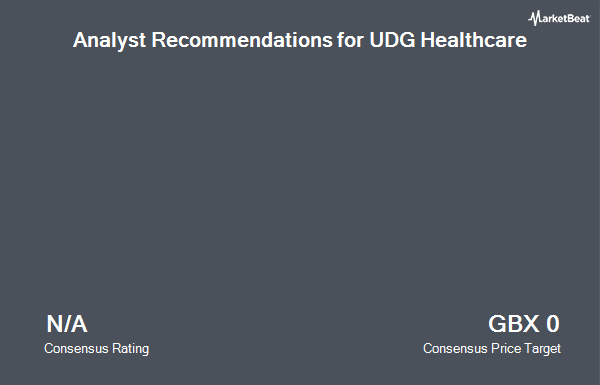 Receive News & Ratings for UDG Healthcare plc Daily - Enter your email address below to receive a concise daily summary of the latest news and analysts' ratings for UDG Healthcare plc and related companies with Analyst Ratings Network's FREE daily email newsletter.