UBS Group Reaffirms "Neutral" Rating for AVEVA Group (AVV)
UBS Group reissued their neutral rating on shares of AVEVA Group (LON:AVV) in a research report sent to investors on Friday, investing.thisismoney.co.uk reports. They currently have a GBX 2,970 ($38.69) price target on the stock, up from their previous price target of GBX 2,850 ($37.12).
A number of other equities research analysts also recently issued reports on AVV. Numis Securities restated an add rating on shares of AVEVA Group in a report on Thursday, June 21st. Berenberg Bank restated a hold rating on shares of AVEVA Group in a report on Monday, September 17th. Citigroup restated a neutral rating and issued a GBX 2,800 ($36.47) target price on shares of AVEVA Group in a report on Tuesday, June 19th. Barclays upgraded shares of AVEVA Group to an overweight rating and boosted their target price for the company from GBX 2,800 ($36.47) to GBX 3,150 ($41.03) in a report on Thursday. Finally, JPMorgan Chase & Co. boosted their target price on shares of AVEVA Group from GBX 2,200 ($28.66) to GBX 3,000 ($39.08) and gave the company an overweight rating in a report on Friday, June 15th. Five analysts have rated the stock with a hold rating and four have issued a buy rating to the stock. AVEVA Group currently has a consensus rating of Hold and a consensus price target of GBX 2,846.67 ($37.08).
LON AVV opened at GBX 2,898 ($37.75) on Friday. AVEVA Group has a 1-year low of GBX 1,791 ($23.33) and a 1-year high of GBX 3,080 ($40.12).
In other AVEVA Group news, insider David Ward sold 2,063 shares of the business's stock in a transaction that occurred on Thursday, August 2nd. The shares were sold at an average price of GBX 2,623 ($34.17), for a total transaction of £54,112.49 ($70,486.51).
AVEVA Group Company Profile
AVEVA Group plc operates as an industrial design and management software company in the Asia-Pacific, Europe, the Middle East and Africa, and Americas. The company offers solutions for brownfield modification, contract management, enterprise resource management, information management, integrated engineering and design, integrated shipbuilding, and steel fabrication, as well as laser and cloud solutions.
Read More: What is a put option?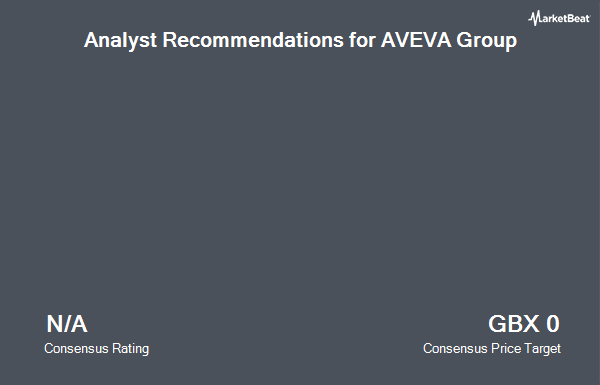 Receive News & Ratings for AVEVA Group Daily - Enter your email address below to receive a concise daily summary of the latest news and analysts' ratings for AVEVA Group and related companies with MarketBeat.com's FREE daily email newsletter.