Tui AG (TUI) Given Consensus Recommendation of "Buy" by Brokerages
Shares of Tui AG (LON:TUI) have been given an average recommendation of "Buy" by the eight research firms that are currently covering the firm, Marketbeat.com reports. One research analyst has rated the stock with a sell recommendation, two have assigned a hold recommendation and five have assigned a buy recommendation to the company. The average 1-year price objective among analysts that have covered the stock in the last year is GBX 1,550.83 ($21.43).
TUI has been the subject of several recent research reports. Deutsche Bank lifted their price objective on TUI from GBX 1,350 ($18.65) to GBX 1,550 ($21.41) and gave the company a "buy" rating in a research note on Monday, December 11th. Shore Capital reiterated a "buy" rating on shares of TUI in a research note on Tuesday, February 13th. HSBC initiated coverage on TUI in a research note on Monday, November 20th. They issued a "buy" rating and a GBX 1,525 ($21.07) price objective for the company. Barclays reiterated an "overweight" rating and issued a GBX 1,480 ($20.45) price objective on shares of TUI in a research note on Tuesday, November 7th. Finally, JPMorgan Chase & Co. cut TUI to a "neutral" rating and lifted their price objective for the company from GBX 1,345 ($18.58) to GBX 1,620 ($22.38) in a research note on Friday, January 12th.
Shares of TUI (LON TUI) traded down GBX 7 ($0.10) on Friday, hitting GBX 1,518 ($20.97). The stock had a trading volume of 1,121,777 shares, compared to its average volume of 1,360,000. TUI has a fifty-two week low of GBX 934.38 ($12.91) and a fifty-two week high of GBX 1,687.93 ($23.32).
The firm also recently announced a dividend, which was paid on Friday, February 16th. Investors of record on Wednesday, February 14th were paid a dividend of €0.65 ($0.80) per share. This represents a yield of 3.92%. The ex-dividend date of this dividend was Wednesday, February 14th.
WARNING: This article was first reported by Watch List News and is the property of of Watch List News. If you are viewing this article on another domain, it was copied illegally and reposted in violation of U.S. and international trademark & copyright laws. The legal version of this article can be accessed at https://www.watchlistnews.com/tui-ag-tui-given-consensus-recommendation-of-buy-by-brokerages/1905318.html.
TUI Company Profile
TUI AG is a Germany-based integrated tourism group. The Company operates through the following segments: Hotels and Resorts, Cruises, Source Markets, divided into Northern Region, Central Region and Western Region, and Other Tourism. The Hotels and Resorts segment comprises all group-owned hotels and hotel shareholdings.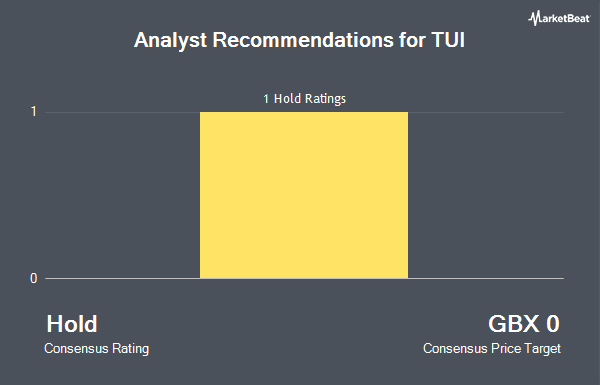 Receive News & Ratings for TUI Daily - Enter your email address below to receive a concise daily summary of the latest news and analysts' ratings for TUI and related companies with MarketBeat.com's FREE daily email newsletter.