Truvvo Partners LLC Buys Shares of 267,572 OHA Investment Corp (NASDAQ:OHAI)
September 13th, 2019 -
Comments Off

on Truvvo Partners LLC Buys Shares of 267,572 OHA Investment Corp (NASDAQ:OHAI)
-
Filed Under
- by
Kyle Jackson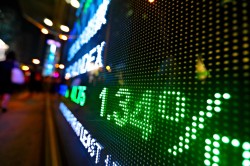 Truvvo Partners LLC bought a new stake in shares of OHA Investment Corp (NASDAQ:OHAI) in the second quarter, according to the company in its most recent Form 13F filing with the Securities and Exchange Commission (SEC). The institutional investor bought 267,572 shares of the financial services provider's stock, valued at approximately $309,000. Truvvo Partners LLC owned about 1.33% of OHA Investment at the end of the most recent reporting period.
Separately, Callodine Capital Management LP raised its holdings in shares of OHA Investment by 3.7% during the second quarter. Callodine Capital Management LP now owns 1,537,905 shares of the financial services provider's stock valued at $1,686,000 after acquiring an additional 55,229 shares during the last quarter. Institutional investors own 39.59% of the company's stock.
Separately, ValuEngine cut OHA Investment from a "hold" rating to a "sell" rating in a report on Thursday, August 1st.
Shares of
OHA Investment stock
remained flat at $$1.34 during mid-day trading on Friday. The company's stock had a trading volume of 7,006 shares, compared to its average volume of 31,830. The company has a fifty day moving average price of $1.26 and a 200-day moving average price of $1.19. OHA Investment Corp has a fifty-two week low of $0.85 and a fifty-two week high of $1.59.
OHA Investment (NASDAQ:OHAI) last announced its earnings results on Monday, August 12th. The financial services provider reported ($0.02) EPS for the quarter. OHA Investment had a negative net margin of 167.76% and a negative return on equity of 1.43%. The firm had revenue of $1.52 million for the quarter.
The company also recently announced a quarterly dividend, which will be paid on Wednesday, October 9th. Shareholders of record on Monday, September 30th will be issued a dividend of $0.02 per share. The ex-dividend date is Friday, September 27th. This represents a $0.08 dividend on an annualized basis and a dividend yield of 5.98%.
OHA Investment Company Profile
OHA Investment Corporation is a business development company specializing in investments in small and mid size and middle market private companies. The fund typically invests in acquisitions, buyouts, growth, development, expansion, monetizations, revitalization, restructuring, recapitalizations, and special situations.
Featured Article: How to execute a trade ex-dividend strategy?
Receive News & Ratings for OHA Investment Daily - Enter your email address below to receive a concise daily summary of the latest news and analysts' ratings for OHA Investment and related companies with MarketBeat.com's FREE daily email newsletter.