Trinity Industries Inc (TRN) Declares Quarterly Dividend of $0.13
Trinity Industries Inc (NYSE:TRN) declared a quarterly dividend on Thursday, September 13th, RTT News reports. Shareholders of record on Monday, October 15th will be given a dividend of 0.13 per share by the transportation company on Wednesday, October 31st. This represents a $0.52 dividend on an annualized basis and a yield of 1.45%.
Trinity Industries has increased its dividend by an average of 11.1% annually over the last three years and has increased its dividend annually for the last 7 consecutive years. Trinity Industries has a payout ratio of 32.1% meaning its dividend is sufficiently covered by earnings. Equities research analysts expect Trinity Industries to earn $1.87 per share next year, which means the company should continue to be able to cover its $0.52 annual dividend with an expected future payout ratio of 27.8%.
NYSE:TRN traded down $0.13 on Thursday, reaching $35.80. The stock had a trading volume of 1,430,822 shares, compared to its average volume of 1,714,373. The firm has a market cap of $5.29 billion, a price-to-earnings ratio of 23.74, a price-to-earnings-growth ratio of 2.20 and a beta of 2.19. The company has a current ratio of 2.52, a quick ratio of 1.61 and a debt-to-equity ratio of 0.69. Trinity Industries has a 12-month low of $29.21 and a 12-month high of $39.19.
Trinity Industries (NYSE:TRN) last released its earnings results on Wednesday, July 25th. The transportation company reported $0.48 earnings per share (EPS) for the quarter, beating the Zacks' consensus estimate of $0.37 by $0.11. The company had revenue of $942.30 million for the quarter, compared to analyst estimates of $965.24 million. Trinity Industries had a net margin of 19.42% and a return on equity of 5.68%. The firm's quarterly revenue was up 4.1% on a year-over-year basis. During the same period in the prior year, the firm earned $0.33 EPS. equities research analysts forecast that Trinity Industries will post 1.62 earnings per share for the current fiscal year.
A number of research analysts have issued reports on the stock. Mizuho restated a "buy" rating and issued a $48.00 target price on shares of Trinity Industries in a report on Thursday, July 26th. Stifel Nicolaus upped their target price on shares of Trinity Industries from $44.00 to $45.00 and gave the company a "buy" rating in a report on Friday, July 27th. TheStreet upgraded shares of Trinity Industries from a "c+" rating to a "b" rating in a report on Monday, July 23rd. Finally, Buckingham Research upped their target price on shares of Trinity Industries from $41.00 to $45.00 and gave the company a "buy" rating in a report on Friday, July 27th. Two analysts have rated the stock with a sell rating, two have given a hold rating and eleven have given a buy rating to the company. Trinity Industries presently has a consensus rating of "Buy" and a consensus price target of $39.75.
About Trinity Industries
Trinity Industries, Inc provides various products and services to the energy, chemical, agriculture, transportation, and construction sectors in the United States and internationally. Its Rail Group segment offers railcars, including autorack, box, covered hopper, gondola, intermodal, tank, and open hopper cars; and railcar maintenance services.
Featured Article: Asset Allocation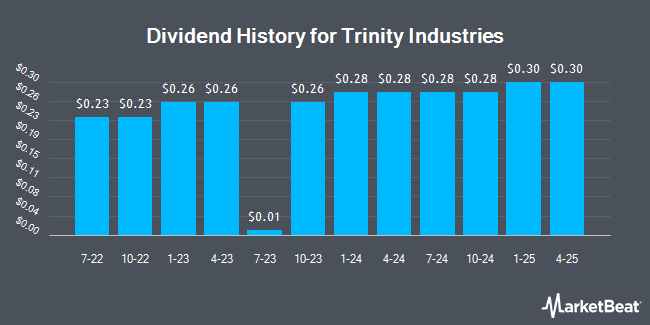 Receive News & Ratings for Trinity Industries Daily - Enter your email address below to receive a concise daily summary of the latest news and analysts' ratings for Trinity Industries and related companies with MarketBeat.com's FREE daily email newsletter.