Titan Machinery Inc. (TITN) to Release Earnings on Wednesday
Titan Machinery Inc. (NASDAQ:TITN) is scheduled to be issuing its quarterly earnings data before the market opens on Wednesday, August 23rd. Analysts expect the company to announce earnings of ($0.02) per share for the quarter.
Titan Machinery (NASDAQ:TITN) last posted its quarterly earnings data on Thursday, May 25th. The company reported ($0.19) EPS for the quarter, missing analysts' consensus estimates of ($0.13) by $0.06. The company had revenue of $264.10 million for the quarter, compared to analysts' expectations of $257 million. Titan Machinery had a negative return on equity of 4.11% and a negative net margin of 1.37%. The company's revenue for the quarter was down 7.3% compared to the same quarter last year. During the same quarter in the prior year, the business posted ($0.21) EPS. On average, analysts expect Titan Machinery to post $0.03 EPS for the current fiscal year and $0.42 EPS for the next fiscal year.
Shares of Titan Machinery Inc. (TITN) opened at 16.94 on Wednesday. The stock's market cap is $362.04 million. Titan Machinery Inc. has a 52-week low of $8.68 and a 52-week high of $19.22. The company's 50-day moving average price is $17.59 and its 200-day moving average price is $15.87.
COPYRIGHT VIOLATION NOTICE: This piece was originally published by Watch List News and is the sole property of of Watch List News. If you are accessing this piece on another site, it was illegally copied and reposted in violation of U.S. & international trademark and copyright legislation. The correct version of this piece can be viewed at https://www.watchlistnews.com/titan-machinery-inc-titn-to-release-earnings-on-wednesday/1492746.html.
In other news, Chairman David Joseph Meyer sold 44,950 shares of the business's stock in a transaction on Friday, May 26th. The stock was sold at an average price of $17.25, for a total transaction of $775,387.50. Following the sale, the chairman now directly owns 724,660 shares of the company's stock, valued at $12,500,385. The sale was disclosed in a legal filing with the Securities & Exchange Commission, which can be accessed through the SEC website. 16.08% of the stock is owned by insiders.
TITN has been the topic of a number of recent analyst reports. ValuEngine raised Titan Machinery from a "sell" rating to a "hold" rating in a research report on Friday, June 2nd. Zacks Investment Research lowered Titan Machinery from a "buy" rating to a "hold" rating in a research report on Wednesday, July 26th. Piper Jaffray Companies set a $18.00 target price on Titan Machinery and gave the stock a "hold" rating in a research report on Friday, August 4th. Finally, BidaskClub lowered Titan Machinery from a "buy" rating to a "hold" rating in a research report on Saturday, August 5th. Five equities research analysts have rated the stock with a hold rating and one has given a buy rating to the company. Titan Machinery presently has an average rating of "Hold" and a consensus target price of $18.67.
About Titan Machinery
Titan Machinery Inc owns and operates a network of service agricultural and construction equipment stores in the United States and Europe. The Company engages in four principal business activities: new and used equipment sales; parts sales; repair and maintenance services, and equipment rental and other activities.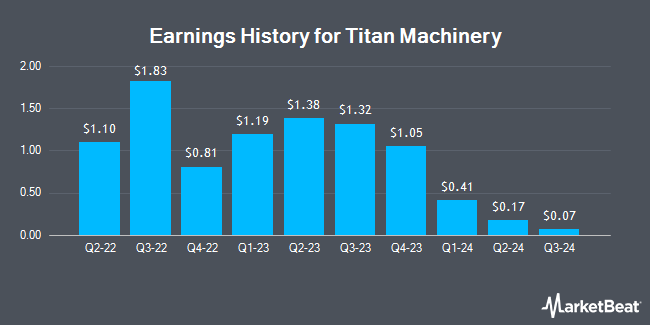 Receive News & Ratings for Titan Machinery Inc. Daily - Enter your email address below to receive a concise daily summary of the latest news and analysts' ratings for Titan Machinery Inc. and related companies with Analyst Ratings Network's FREE daily email newsletter.