TigerLogic Corp.'s (OTCMKTS:TIGR) Lock-Up Period Set To End on September 16th
September 16th, 2019 -
Comments Off

on TigerLogic Corp.'s (OTCMKTS:TIGR) Lock-Up Period Set To End on September 16th
-
Filed Under
- by
Hanz Christensen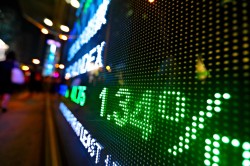 TigerLogic's (OTCMKTS:TIGR) lock-up period will end on Monday, September 16th. TigerLogic had issued 13,000,000 shares in its IPO on March 20th. The total size of the offering was $104,000,000 based on an initial share price of $8.00. Shares of the company owned by company insiders and major shareholders will be eligible for trade following the end of the lock-up period.
TIGR stock opened at $4.70 on Monday. The stock's 50-day moving average is $4.42. TigerLogic has a 52 week low of $3.71 and a 52 week high of $23.89.
TigerLogic (OTCMKTS:TIGR) last released its earnings results on Friday, August 23rd. The software maker reported ($0.01) EPS for the quarter. The firm had revenue of $12.90 million for the quarter.
TigerLogic Company Profile
TigerLogic Corporation is engaged in the design, development, sale and support of Postano, a socialmedia content aggregation and visualization platform. Postano is sold through the Company's sales personnel located in the United States, as well as through co-marketing arrangements with third parties.
Read More: Capital gains and your 401(k) or IRA
Receive News & Ratings for TigerLogic Daily - Enter your email address below to receive a concise daily summary of the latest news and analysts' ratings for TigerLogic and related companies with MarketBeat.com's FREE daily email newsletter.