Tesco Corporation (TESO) Scheduled to Post Quarterly Earnings on Tuesday
Tesco Corporation (NASDAQ:TESO) is scheduled to announce its Q3 2017 earnings results before the market opens on Tuesday, November 7th. Analysts expect the company to announce earnings of ($0.22) per share for the quarter.
Tesco Corporation (NASDAQ:TESO) last released its quarterly earnings data on Tuesday, August 8th. The oil and gas company reported ($0.25) earnings per share (EPS) for the quarter, missing the consensus estimate of ($0.24) by ($0.01). Tesco Corporation had a negative return on equity of 18.21% and a negative net margin of 47.72%. The company had revenue of $40.10 million for the quarter, compared to analyst estimates of $41.01 million. During the same quarter in the prior year, the company earned ($0.39) earnings per share. The business's revenue was up 19.3% compared to the same quarter last year. On average, analysts expect Tesco Corporation to post $-1 EPS for the current fiscal year and $-1 EPS for the next fiscal year.
Tesco Corporation (NASDAQ TESO) opened at $4.00 on Friday. Tesco Corporation has a 12 month low of $3.60 and a 12 month high of $9.65.
Several research analysts have issued reports on TESO shares. FBR & Co set a $7.00 price objective on Tesco Corporation and gave the stock a "buy" rating in a research note on Wednesday, August 16th. Cowen and Company set a $5.00 target price on Tesco Corporation and gave the company a "hold" rating in a research note on Friday, October 6th. Zacks Investment Research upgraded Tesco Corporation from a "sell" rating to a "hold" rating in a research note on Friday, September 15th. Seaport Global Securities restated a "neutral" rating on shares of Tesco Corporation in a research note on Wednesday, August 9th. Finally, ValuEngine lowered Tesco Corporation from a "sell" rating to a "strong sell" rating in a research note on Friday, September 1st. Three research analysts have rated the stock with a sell rating, two have assigned a hold rating and two have assigned a buy rating to the stock. The stock currently has an average rating of "Hold" and an average target price of $6.00.
In other Tesco Corporation news, CEO Fernando Rafael Assing sold 9,293 shares of the firm's stock in a transaction dated Thursday, November 2nd. The stock was sold at an average price of $3.80, for a total transaction of $35,313.40. The sale was disclosed in a legal filing with the SEC, which is available at the SEC website. Over the last quarter, insiders sold 16,640 shares of company stock valued at $63,232. Corporate insiders own 1.70% of the company's stock.
ILLEGAL ACTIVITY NOTICE: This report was originally reported by Watch List News and is owned by of Watch List News. If you are reading this report on another website, it was stolen and reposted in violation of U.S. & international copyright and trademark legislation. The correct version of this report can be accessed at https://www.watchlistnews.com/tesco-corporation-teso-scheduled-to-post-quarterly-earnings-on-tuesday/1679435.html.
About Tesco Corporation
Tesco Corporation is a provider of technology-based solutions for drilling, servicing and completion of wells for the upstream energy industry. The Company's operations consist of top drives and automated pipe handling equipment sales and rentals; aftermarket sales and services, and tubular services, including related products and accessories sales.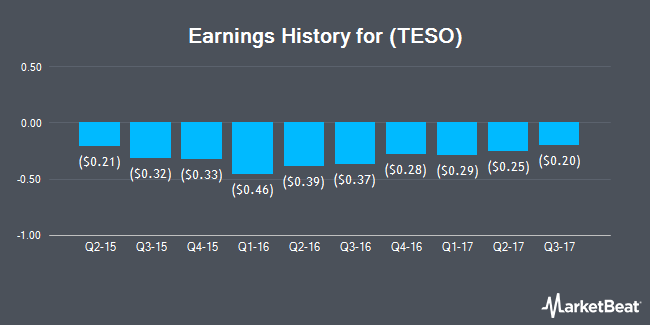 Receive News & Ratings for Tesco Corporation Daily - Enter your email address below to receive a concise daily summary of the latest news and analysts' ratings for Tesco Corporation and related companies with Analyst Ratings Network's FREE daily email newsletter.