TD Securities Boosts Toromont Industries Ltd (TIH) Price Target to C$48.00
Toromont Industries Ltd (TSE:TIH) had its target price lifted by TD Securities from C$47.00 to C$48.00 in a research report sent to investors on Thursday. TD Securities currently has a hold rating on the stock.
A number of other brokerages have also commented on TIH. National Bank Financial raised Toromont Industries from a sector perform rating to an outperform rating and upped their price objective for the company from C$46.00 to C$52.00 in a report on Thursday, June 1st. Scotiabank reaffirmed a sector perform rating and issued a C$43.50 price objective on shares of Toromont Industries in a report on Thursday, April 27th. Canaccord Genuity upped their price objective on Toromont Industries from C$43.00 to C$50.00 and gave the company a hold rating in a report on Tuesday, May 2nd. Finally, Royal Bank Of Canada lowered Toromont Industries from an outperform rating to a sector perform rating and set a C$51.00 price objective on the stock. in a report on Friday, April 28th. Five equities research analysts have rated the stock with a hold rating and one has issued a buy rating to the stock. Toromont Industries has a consensus rating of Hold and a consensus price target of C$48.07.
Toromont Industries (TSE:TIH) opened at 46.56 on Thursday. Toromont Industries has a 12 month low of $37.59 and a 12 month high of $50.45. The company has a 50-day moving average price of $47.02 and a 200 day moving average price of $45.92. The company has a market capitalization of $3.65 billion and a PE ratio of 22.96.
Toromont Industries (TSE:TIH) last issued its quarterly earnings data on Tuesday, July 25th. The company reported $0.51 EPS for the quarter, missing analysts' consensus estimates of $0.55 by $0.04. Toromont Industries had a net margin of 6.55% and a return on equity of 12.14%. The firm had revenue of $530.93 million during the quarter, compared to analyst estimates of $550.60 million. On average, equities research analysts forecast that Toromont Industries will post $2.12 EPS for the current fiscal year.
TRADEMARK VIOLATION NOTICE: "TD Securities Boosts Toromont Industries Ltd (TIH) Price Target to C$48.00" was originally published by Watch List News and is the property of of Watch List News. If you are reading this piece on another website, it was illegally stolen and republished in violation of US & international copyright & trademark laws. The legal version of this piece can be read at https://www.watchlistnews.com/td-securities-boosts-toromont-industries-ltd-tih-price-target-to-c48-00/1463313.html.
The business also recently announced a quarterly dividend, which will be paid on Monday, October 2nd. Stockholders of record on Friday, September 8th will be given a dividend of $0.19 per share. The ex-dividend date is Thursday, September 7th. This represents a $0.76 dividend on an annualized basis and a dividend yield of 1.63%.
About Toromont Industries
Toromont Industries Ltd is a Canada-based company, which operates through two segments: Equipment Group and CIMCO. The Company's Equipment Group is involved in supply of specialized mobile equipment and industrial engines. It consists of businesses, including Toromont CAT, Battlefield-The CAT Rental Store, Sitech Mid-Canada Ltd., Toromont Energy Ltd.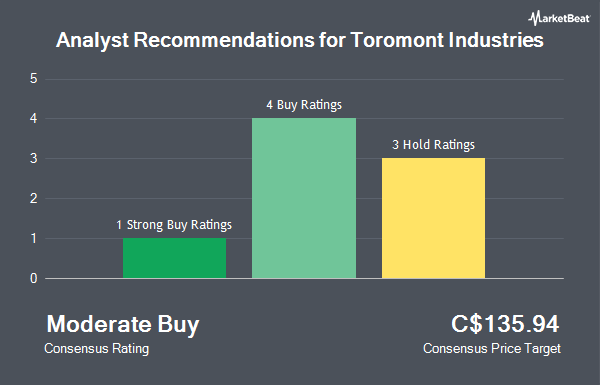 Receive News & Ratings for Toromont Industries Ltd Daily - Enter your email address below to receive a concise daily summary of the latest news and analysts' ratings for Toromont Industries Ltd and related companies with Analyst Ratings Network's FREE daily email newsletter.