Synthomer (LON:SYNT) Lifted to "Neutral" at UBS Group
UBS Group upgraded shares of Synthomer (LON:SYNT) to a neutral rating in a research report sent to investors on Friday morning, ThisIsMoney.Co.Uk reports. UBS Group currently has GBX 310 ($4.05) price objective on the stock, down from their previous price objective of GBX 326 ($4.26).
Several other equities analysts have also commented on SYNT. Credit Suisse Group cut their price target on Synthomer from GBX 400 ($5.23) to GBX 370 ($4.83) and set a neutral rating on the stock in a research note on Friday, August 9th. Numis Securities upgraded Synthomer to a buy rating in a research note on Monday, April 29th. JPMorgan Chase & Co. restated an underweight rating on shares of Synthomer in a research note on Thursday, May 23rd. Peel Hunt restated a buy rating and set a GBX 450 ($5.88) price target (down previously from GBX 500 ($6.53)) on shares of Synthomer in a research note on Monday, August 5th. Finally, Deutsche Bank cut their price target on Synthomer from GBX 500 ($6.53) to GBX 375 ($4.90) and set a buy rating on the stock in a research note on Wednesday, August 7th. One analyst has rated the stock with a sell rating, two have issued a hold rating and six have issued a buy rating to the company. The stock has an average rating of Buy and a consensus price target of GBX 446 ($5.83).
Shares of Synthomer stock opened at GBX 299.20 ($3.91) on Friday. The firm has a market cap of $1.27 billion and a P/E ratio of 13.72. The company has a current ratio of 1.22, a quick ratio of 0.87 and a debt-to-equity ratio of 77.42. Synthomer has a 12 month low of GBX 277.80 ($3.63) and a 12 month high of GBX 539.55 ($7.05). The stock's fifty day moving average price is GBX 330.78 and its 200-day moving average price is GBX 371.94.
The company also recently declared a dividend, which will be paid on Tuesday, November 5th. Stockholders of record on Thursday, October 3rd will be paid a dividend of GBX 4 ($0.05) per share. The ex-dividend date is Thursday, October 3rd. This represents a dividend yield of 1.41%. Synthomer's dividend payout ratio is currently 0.55%.
In other news, insider Alexander G. Catto sold 560,966 shares of the firm's stock in a transaction on Wednesday, July 24th. The stock was sold at an average price of GBX 88 ($1.15), for a total transaction of £493,650.08 ($645,041.26).
About Synthomer
Synthomer plc operates as a specialty chemicals company in Europe, North America, Asia, and internationally. The company offers pressure-sensitive adhesives, acrylic polymers, acrylic dispersions, and other adhesives; latices for foamed bedding products and footwear; and binders for carpet applications.
Read More: What is meant by holder of record?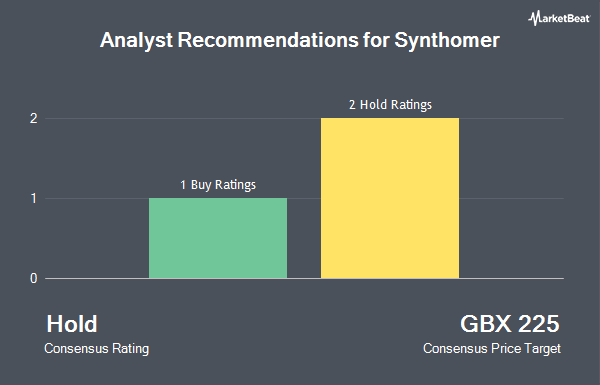 Receive News & Ratings for Synthomer Daily - Enter your email address below to receive a concise daily summary of the latest news and analysts' ratings for Synthomer and related companies with MarketBeat.com's FREE daily email newsletter.