Sykes Enterprises, Incorporated (SYKE) Updates Q4 Earnings Guidance
Sykes Enterprises, Incorporated (NASDAQ:SYKE) issued an update on its fourth quarter earnings guidance on Monday morning. The company provided earnings per share guidance of $0.39-0.41 for the period, compared to the Thomson Reuters consensus earnings per share estimate of $0.46. The company issued revenue guidance of $407-412 million, compared to the consensus revenue estimate of $407.37 million.
Shares of Sykes Enterprises, Incorporated (NASDAQ SYKE) opened at $28.78 on Tuesday. The company has a debt-to-equity ratio of 0.35, a quick ratio of 3.44 and a current ratio of 3.44. Sykes Enterprises, Incorporated has a 12 month low of $25.77 and a 12 month high of $34.49. The stock has a market cap of $1,223.00, a PE ratio of 14.52, a PEG ratio of 1.59 and a beta of 0.85.
Sykes Enterprises, (NASDAQ:SYKE) last posted its earnings results on Monday, October 30th. The information technology services provider reported $0.62 earnings per share (EPS) for the quarter, topping the consensus estimate of $0.43 by $0.19. Sykes Enterprises, had a net margin of 4.36% and a return on equity of 11.21%. The business had revenue of $407.31 million for the quarter, compared to analyst estimates of $399.22 million. During the same period in the prior year, the company posted $0.55 EPS. The company's revenue for the quarter was up 5.6% on a year-over-year basis. research analysts predict that Sykes Enterprises, Incorporated will post 1.81 earnings per share for the current year.
SYKE has been the subject of several research analyst reports. Zacks Investment Research downgraded shares of Sykes Enterprises, from a strong-buy rating to a hold rating in a research report on Tuesday, July 18th. SunTrust Banks, Inc. reiterated a buy rating and issued a $34.00 price objective on shares of Sykes Enterprises, in a report on Monday, October 9th. Finally, Robert W. Baird reiterated a hold rating and issued a $29.00 price objective on shares of Sykes Enterprises, in a report on Sunday, October 22nd.
In other news, CEO Charles E. Sykes sold 20,000 shares of the firm's stock in a transaction that occurred on Wednesday, August 30th. The shares were sold at an average price of $26.27, for a total transaction of $525,400.00. Following the completion of the sale, the chief executive officer now owns 337,999 shares in the company, valued at approximately $8,879,233.73. The sale was disclosed in a legal filing with the Securities & Exchange Commission, which can be accessed through this link. 2.70% of the stock is currently owned by corporate insiders.
COPYRIGHT VIOLATION WARNING: "Sykes Enterprises, Incorporated (SYKE) Updates Q4 Earnings Guidance" was first published by Watch List News and is the property of of Watch List News. If you are viewing this piece of content on another site, it was illegally stolen and reposted in violation of US and international copyright and trademark laws. The original version of this piece of content can be read at https://www.watchlistnews.com/sykes-enterprises-incorporated-syke-updates-q4-earnings-guidance/1684856.html.
About Sykes Enterprises,
Sykes Enterprises, Incorporated is engaged in providing outsourced customer contact management solutions and services in the business process outsourcing (BPO) arena on a global basis. The Company has operations in two segments: the Americas, which includes the United States, Canada, Latin America, Australia and the Asia Pacific Rim, and EMEA, which includes Europe, the Middle East and Africa.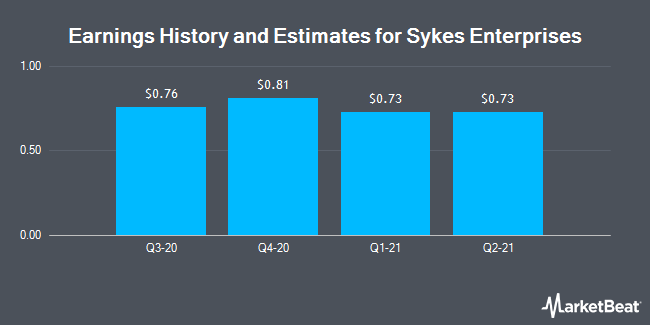 Receive News & Ratings for Sykes Enterprises Incorporated Daily - Enter your email address below to receive a concise daily summary of the latest news and analysts' ratings for Sykes Enterprises Incorporated and related companies with Analyst Ratings Network's FREE daily email newsletter.