Superior Plus Corp. (SPB) Upgraded at Canaccord Genuity
Canaccord Genuity upgraded shares of Superior Plus Corp. (TSE:SPB) from a hold rating to a buy rating in a research report released on Thursday. The firm currently has C$13.00 price objective on the stock.
Several other analysts have also recently weighed in on SPB. Scotiabank reduced their price target on Superior Plus Corp. from C$13.75 to C$13.00 and set a sector perform rating on the stock in a report on Monday, July 10th. TD Securities dropped their price objective on shares of Superior Plus Corp. from C$14.00 to C$13.00 and set a hold rating for the company in a report on Thursday, August 10th. Four analysts have rated the stock with a hold rating and four have given a buy rating to the company's stock. The stock has a consensus rating of Buy and a consensus price target of C$13.66.
Superior Plus Corp. (TSE:SPB) opened at 12.64 on Thursday. Superior Plus Corp. has a 52 week low of $10.80 and a 52 week high of $13.34. The company has a market capitalization of $1.80 billion and a PE ratio of 7.39. The firm has a 50-day moving average of $11.54 and a 200-day moving average of $12.02.
TRADEMARK VIOLATION WARNING: This piece of content was posted by Watch List News and is the property of of Watch List News. If you are accessing this piece of content on another publication, it was stolen and republished in violation of US & international copyright & trademark legislation. The correct version of this piece of content can be viewed at https://www.watchlistnews.com/superior-plus-corp-spb-upgraded-at-canaccord-genuity/1601886.html.
The business also recently declared a monthly dividend, which will be paid on Friday, October 13th. Shareholders of record on Saturday, September 30th will be given a $0.06 dividend. The ex-dividend date is Thursday, September 28th. This represents a $0.72 dividend on an annualized basis and a dividend yield of 5.70%.
In other news, Director Patrick Edward Gottschalk purchased 30,000 shares of the stock in a transaction on Friday, September 29th. The stock was purchased at an average price of C$10.19 per share, for a total transaction of C$305,700.00.
About Superior Plus Corp.
Superior Plus Corp. (Superior) is a Canada-based diversified business company. The Company operates through two segment: Energy Distribution and Specialty Chemicals. The Company's Energy Distribution operating segment provides distribution, wholesale procurement and related services in relation to propane, heating oil and other refined fuels under Canadian propane division and the United States refined fuels division.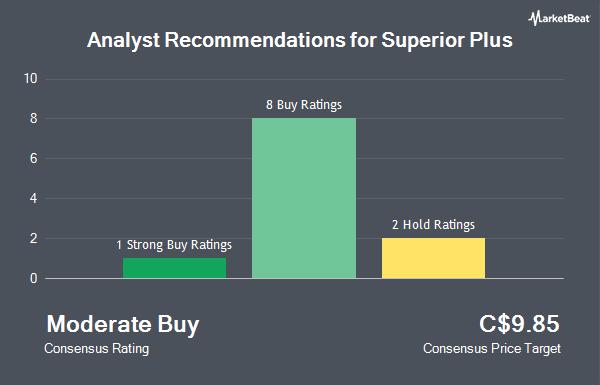 Receive News & Ratings for Superior Plus Corp. Daily - Enter your email address below to receive a concise daily summary of the latest news and analysts' ratings for Superior Plus Corp. and related companies with Analyst Ratings Network's FREE daily email newsletter.