Steelcase (SCS) Releases Earnings Results, Meets Estimates
Steelcase (NYSE:SCS) issued its earnings results on Tuesday. The business services provider reported $0.22 earnings per share (EPS) for the quarter, hitting analysts' consensus estimates of $0.22, Briefing.com reports. Steelcase had a return on equity of 15.72% and a net margin of 3.98%. The company had revenue of $772.10 million for the quarter, compared to analysts' expectations of $762.37 million. During the same period last year, the business earned $0.30 EPS. Steelcase's quarterly revenue was down 1.8% compared to the same quarter last year. Steelcase updated its Q4 guidance to $0.14-0.18 EPS.
Steelcase (NYSE:SCS) opened at $14.35 on Wednesday. The company has a debt-to-equity ratio of 0.37, a quick ratio of 1.28 and a current ratio of 1.63. Steelcase has a 52 week low of $12.50 and a 52 week high of $18.15. The firm has a market capitalization of $1,660.00, a price-to-earnings ratio of 13.82 and a beta of 1.25.
Several equities analysts have weighed in on the company. Zacks Investment Research cut Steelcase from a "hold" rating to a "sell" rating in a research note on Tuesday, December 12th. Sidoti cut Steelcase from a "buy" rating to a "neutral" rating and set a $16.00 price objective on the stock. in a research note on Wednesday, September 20th. ValuEngine cut Steelcase from a "buy" rating to a "hold" rating in a research note on Friday, September 1st. Finally, TheStreet upgraded Steelcase from a "c+" rating to a "b-" rating in a research note on Tuesday, October 3rd. Two equities research analysts have rated the stock with a sell rating, two have given a hold rating and two have given a buy rating to the company. The stock has a consensus rating of "Hold" and a consensus target price of $16.00.
COPYRIGHT VIOLATION NOTICE: "Steelcase (SCS) Releases Earnings Results, Meets Estimates" was originally reported by Watch List News and is the property of of Watch List News. If you are viewing this story on another site, it was stolen and republished in violation of international copyright and trademark law. The legal version of this story can be viewed at https://www.watchlistnews.com/steelcase-scs-posts-quarterly-earnings-results-misses-estimates-by-0-06-eps/1773506.html.
Steelcase Company Profile
Steelcase Inc provides an integrated portfolio of furniture settings, user-centered technologies and interior architectural products. The Company's segments include Americas, EMEA and Other Category. The Company's furniture portfolio includes panel-based and freestanding furniture systems and complementary products, such as storage, tables and ergonomic worktools.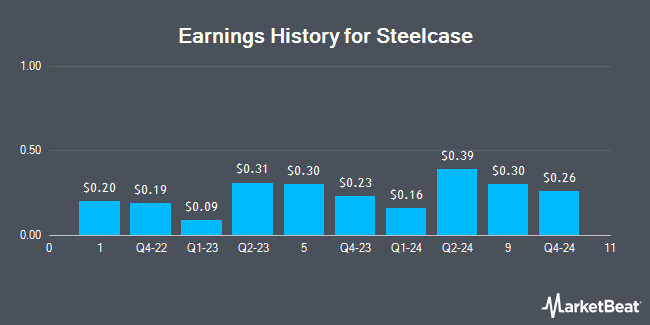 Receive News & Ratings for Steelcase Daily - Enter your email address below to receive a concise daily summary of the latest news and analysts' ratings for Steelcase and related companies with MarketBeat.com's FREE daily email newsletter.