Stantec (STN) PT Raised to C$38.00 at Royal Bank of Canada

Stantec (TSE:STN) (NYSE:STN) had its price target lifted by investment analysts at Royal Bank of Canada from C$36.00 to C$38.00 in a report issued on Friday. The firm currently has a "sector perform" rating on the stock. Royal Bank of Canada's price target would suggest a potential upside of 18.71% from the stock's previous close.
Other equities research analysts have also recently issued reports about the company. BMO Capital Markets set a C$38.00 target price on Stantec and gave the stock an "outperform" rating in a research note on Thursday, July 12th. Laurentian upgraded Stantec from a "hold" rating to a "buy" rating and set a C$39.00 target price on the stock in a research note on Monday, October 22nd. Canaccord Genuity lifted their price objective on Stantec from C$37.00 to C$40.00 in a report on Monday, October 22nd. Finally, CIBC raised Stantec from a "neutral" rating to an "outperform" rating in a report on Monday, October 22nd. Five research analysts have rated the stock with a hold rating and three have given a buy rating to the stock. Stantec presently has a consensus rating of "Hold" and an average price target of C$38.17.
TSE STN opened at C$32.01 on Friday. Stantec has a one year low of C$30.97 and a one year high of C$36.83. The company has a quick ratio of 1.63, a current ratio of 1.69 and a debt-to-equity ratio of 47.16.
Stantec (TSE:STN) (NYSE:STN) last released its earnings results on Wednesday, August 8th. The company reported C$0.41 EPS for the quarter, missing the Zacks' consensus estimate of C$0.54 by C($0.13). The firm had revenue of C$907.80 million during the quarter, compared to the consensus estimate of C$904.15 million. As a group, equities analysts forecast that Stantec will post 2.21999998832603 earnings per share for the current year.
In other news, Director Michael Aloysius Kennedy acquired 1,000 shares of the firm's stock in a transaction that occurred on Friday, September 7th. The stock was bought at an average price of C$25.33 per share, with a total value of C$25,330.00.
Stantec Company Profile
Stantec Inc provides professional consulting services in the area of infrastructure and facilities for clients in the public and private sectors in Canada, the United States, and internationally. It operates through four segments: Consulting Services – Canada, Consulting Services – United States, Consulting Services – Global, and Construction Services.
Recommended Story: Dow Jones Industrial Average (DJIA)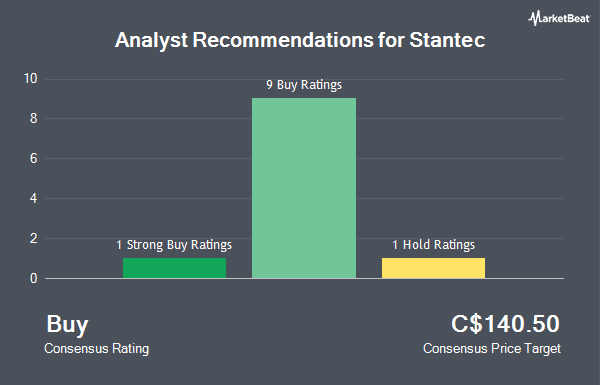 Receive News & Ratings for Stantec Daily - Enter your email address below to receive a concise daily summary of the latest news and analysts' ratings for Stantec and related companies with MarketBeat.com's FREE daily email newsletter.