Stantec (STN) Price Target Raised to C$39.00
Stantec (TSE:STN) (NYSE:STN) had its target price lifted by CIBC from C$38.00 to C$39.00 in a report released on Tuesday morning. CIBC currently has a neutral rating on the stock.
Several other equities research analysts have also issued reports on the company. National Bank Financial reduced their price target on Stantec from C$42.00 to C$39.00 and set an outperform rating for the company in a report on Friday, December 1st. Desjardins lifted their price target on Stantec from C$39.00 to C$43.00 in a report on Monday, November 13th. Scotiabank reiterated an outperform rating and set a C$40.00 price target on shares of Stantec in a report on Friday, November 10th. Raymond James Financial lifted their price target on Stantec from C$38.00 to C$41.00 and gave the company an outperform rating in a report on Friday, November 10th. Finally, Canaccord Genuity lifted their price target on Stantec from C$34.00 to C$36.00 in a report on Tuesday, October 31st. Three analysts have rated the stock with a hold rating and four have given a buy rating to the stock. The stock has a consensus rating of Buy and a consensus price target of C$39.50.
Shares of Stantec (TSE STN) opened at C$35.25 on Tuesday. Stantec has a 1 year low of C$30.24 and a 1 year high of C$37.13. The company has a market capitalization of $4,060.00, a PE ratio of 34.90 and a beta of 1.22.
Stantec (TSE:STN) (NYSE:STN) last announced its quarterly earnings data on Thursday, November 9th. The company reported C$0.54 EPS for the quarter, missing the Zacks' consensus estimate of C$0.55 by C($0.01). Stantec had a return on equity of 9.76% and a net margin of 5.41%.
The company also recently declared a quarterly dividend, which was paid on Thursday, January 11th. Stockholders of record on Friday, December 29th were issued a dividend of $0.125 per share. The ex-dividend date of this dividend was Thursday, December 28th. This represents a $0.50 annualized dividend and a dividend yield of 1.42%. Stantec's dividend payout ratio is 48.27%.
In other news, Director Carl Frank Clayton sold 10,000 shares of Stantec stock in a transaction dated Thursday, December 14th. The stock was sold at an average price of C$35.10, for a total transaction of C$351,000.00.
COPYRIGHT VIOLATION NOTICE: "Stantec (STN) Price Target Raised to C$39.00" was first published by Watch List News and is owned by of Watch List News. If you are reading this piece of content on another publication, it was illegally copied and reposted in violation of U.S. and international copyright & trademark laws. The legal version of this piece of content can be accessed at https://www.watchlistnews.com/stantec-stn-price-target-raised-to-c39-00/1813416.html.
Stantec Company Profile
Stantec Inc is a provider of professional services in the area of infrastructure and facilities for clients in the public and private sectors. The Company's operates through four segments Consulting Services-Canada, Consulting Services-United States, Consulting Services-Global and Construction Services.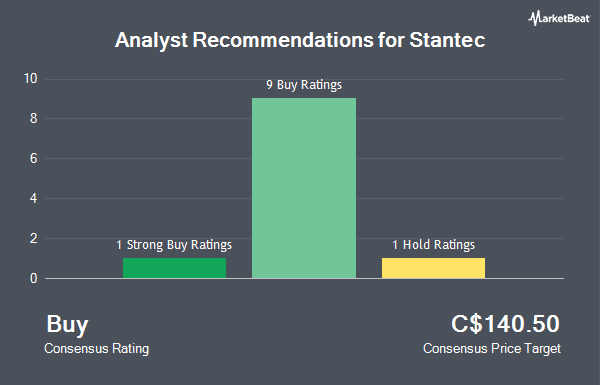 Receive News & Ratings for Stantec Daily - Enter your email address below to receive a concise daily summary of the latest news and analysts' ratings for Stantec and related companies with MarketBeat.com's FREE daily email newsletter.