Spire Inc. (SR) Releases Earnings Results, Beats Expectations By $0.04 EPS
Spire Inc. (NYSE:SR) released its quarterly earnings results on Wednesday. The utilities provider reported ($0.22) earnings per share for the quarter, topping analysts' consensus estimates of ($0.26) by $0.04, Bloomberg Earnings reports. The business had revenue of $258.70 million for the quarter, compared to analysts' expectations of $271.65 million. Spire had a return on equity of 8.77% and a net margin of 9.12%. The company's revenue was down 7.4% compared to the same quarter last year. During the same quarter in the prior year, the firm posted ($0.32) EPS.
Shares of Spire (NYSE:SR) traded up $1.20 on Wednesday, hitting $78.60. The company had a trading volume of 379,300 shares, compared to its average volume of 187,700. The company has a quick ratio of 0.65, a current ratio of 0.69 and a debt-to-equity ratio of 0.95. The stock has a market cap of $3,735.48, a price-to-earnings ratio of 21.86, a P/E/G ratio of 3.92 and a beta of 0.30. Spire has a twelve month low of $62.33 and a twelve month high of $79.60.
The company also recently announced a quarterly dividend, which will be paid on Wednesday, January 3rd. Investors of record on Monday, December 11th will be given a $0.5625 dividend. This is a positive change from Spire's previous quarterly dividend of $0.53. This represents a $2.25 annualized dividend and a dividend yield of 2.86%. Spire's dividend payout ratio (DPR) is 60.17%.
A number of equities research analysts have commented on SR shares. Morgan Stanley increased their target price on Spire from $73.00 to $75.00 and gave the company an "underweight" rating in a report on Friday, September 8th. Stifel Nicolaus reissued a "hold" rating and set a $71.00 price target on shares of Spire in a research note on Thursday, August 3rd. Royal Bank Of Canada reissued a "hold" rating and set a $73.00 price target on shares of Spire in a research note on Monday, October 16th. J P Morgan Chase & Co increased their price target on Spire from $71.00 to $75.00 and gave the stock an "underweight" rating in a research note on Thursday, October 12th. Finally, Zacks Investment Research raised Spire from a "hold" rating to a "buy" rating and set a $84.00 price target on the stock in a research note on Wednesday, October 4th. Two research analysts have rated the stock with a sell rating, three have assigned a hold rating and one has given a buy rating to the stock. Spire currently has an average rating of "Hold" and a consensus target price of $74.33.
COPYRIGHT VIOLATION NOTICE: This story was first posted by Watch List News and is owned by of Watch List News. If you are viewing this story on another site, it was stolen and republished in violation of U.S. and international trademark and copyright legislation. The original version of this story can be read at https://www.watchlistnews.com/spire-inc-sr-releases-earnings-results-beats-expectations-by-0-04-eps/1705449.html.
Spire Company Profile
Spire Inc, formerly The Laclede Group, Inc, is engaged to transform its business and pursue growth by growing its gas utility business through prudent investment in infrastructure upgrades and organic growth initiatives; acquire and integrate gas utilities; modernize its gas assets, and invest in innovation.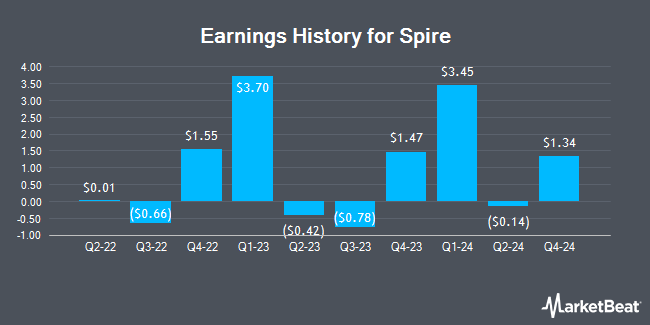 Receive News & Ratings for Spire Inc. Daily - Enter your email address below to receive a concise daily summary of the latest news and analysts' ratings for Spire Inc. and related companies with Analyst Ratings Network's FREE daily email newsletter.