Sigma Labs (SGLB) Trading 6.8% Higher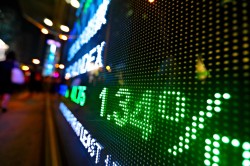 Sigma Labs Inc. (NASDAQ:SGLB) traded up 6.8% during mid-day trading on Tuesday . The stock traded as high as $2.08 and last traded at $2.05. 503,740 shares were traded during trading, an increase of 79% from the average session volume of 281,647 shares. The stock had previously closed at $1.92.
Separately, Dawson James restated a "buy" rating on shares of Sigma Labs in a research report on Thursday, September 27th.
The stock has a market capitalization of $15.50 million, a PE ratio of -1.97 and a beta of -1.51.
Sigma Labs (NASDAQ:SGLB) last posted its earnings results on Tuesday, August 14th. The company reported ($0.25) earnings per share (EPS) for the quarter. The company had revenue of $0.10 million for the quarter. Sigma Labs had a negative return on equity of 168.04% and a negative net margin of 1,294.78%. On average, equities analysts expect that Sigma Labs Inc. will post -0.67 earnings per share for the current year.
In related news, major shareholder Carl I. Schwartz bought 500,000 shares of the company's stock in a transaction on Wednesday, August 29th. The shares were purchased at an average price of $1.00 per share, for a total transaction of $500,000.00. The transaction was disclosed in a filing with the Securities & Exchange Commission, which is available through this link. Corporate insiders own 9.55% of the company's stock.
ILLEGAL ACTIVITY NOTICE: This piece was originally reported by Watch List News and is the property of of Watch List News. If you are reading this piece on another publication, it was stolen and republished in violation of U.S. & international trademark & copyright laws. The correct version of this piece can be viewed at https://www.watchlistnews.com/sigma-labs-sglb-trading-6-8-higher/2606922.html.
Sigma Labs Company Profile (NASDAQ:SGLB)
Sigma Labs, Inc develops and commercializes manufacturing and materials technologies. It offers PrintRite3D quality assurance software apps primarily for 3D printing and additive manufacturing industries. The company's products are used in advanced manufacturing technologies to assure part quality in real time as the part is being made and enhance process control practices.
Further Reading: Google Finance Portfolio Workaround

Receive News & Ratings for Sigma Labs Daily - Enter your email address below to receive a concise daily summary of the latest news and analysts' ratings for Sigma Labs and related companies with MarketBeat.com's FREE daily email newsletter.