Semafo Inc. Expected to Post FY2018 Earnings of $0.19 Per Share (SMF)
Semafo Inc. (TSE:SMF) – Stock analysts at Clarus Securities dropped their FY2018 earnings estimates for shares of Semafo in a research note issued on Thursday. Clarus Securities analyst N. Sangmuah now anticipates that the mining company will earn $0.19 per share for the year, down from their prior forecast of $0.20. Clarus Securities has a "Hold" rating on the stock. Clarus Securities also issued estimates for Semafo's FY2019 earnings at $0.50 EPS.
Separately, Scotiabank reissued an "outperform" rating and issued a C$5.25 target price on shares of Semafo in a research report on Wednesday, November 15th. Three research analysts have rated the stock with a hold rating and six have given a buy rating to the company. The stock currently has a consensus rating of "Buy" and an average target price of C$5.19.
Shares of Semafo (
SMF
) opened at C$3.87 on Friday. Semafo has a 12-month low of C$2.68 and a 12-month high of C$5.24. The stock has a market cap of $1,260.00, a P/E ratio of 77.40 and a beta of -1.02.
Semafo (TSE:SMF) last released its earnings results on Wednesday, November 8th. The mining company reported C$0.04 earnings per share (EPS) for the quarter, topping the Thomson Reuters' consensus estimate of C$0.03 by C$0.01. Semafo had a net margin of 19.77% and a return on equity of 6.80%.
In other Semafo news, Director Tertius Zongo sold 57,964 shares of Semafo stock in a transaction that occurred on Friday, November 10th. The shares were sold at an average price of C$3.36, for a total transaction of C$194,759.04. Also, insider ÉRic Paul-Hus purchased 15,000 shares of Semafo stock in a transaction on Monday, November 20th. The shares were acquired at an average cost of C$3.36 per share, for a total transaction of C$50,400.00.
TRADEMARK VIOLATION WARNING: "Semafo Inc. Expected to Post FY2018 Earnings of $0.19 Per Share (SMF)" was reported by Watch List News and is the property of of Watch List News. If you are accessing this piece of content on another site, it was stolen and reposted in violation of United States & international trademark and copyright legislation. The legal version of this piece of content can be read at https://www.watchlistnews.com/semafo-inc-expected-to-post-fy2018-earnings-of-0-19-per-share-smf/1828720.html.
About Semafo
SEMAFO Inc is a Canada-based mining company. The Company's segments include Mana, Burkina Faso; Natougou, Burkina Faso, and Other exploration. The Company, through its subsidiaries, is engaged in gold mining activities, including exploration, development and operations. Its properties include Mana project, which is located in Burkina Faso that includes the satellite Siou and Fofina deposits; Natougou advanced gold deposit, which is located approximately 320 kilometers east of Ouagadougou, and consists of a drill database of over 170 diamond, 625 multi-purpose (reverse-circulation (RC) pre-collar and core tail) and 550 RC drill holes; Banfora project, which is located approximately 200 kilometers south west of Mana, and Nabanga project, which is located approximately 250 kilometers south-east of Ouagadougou.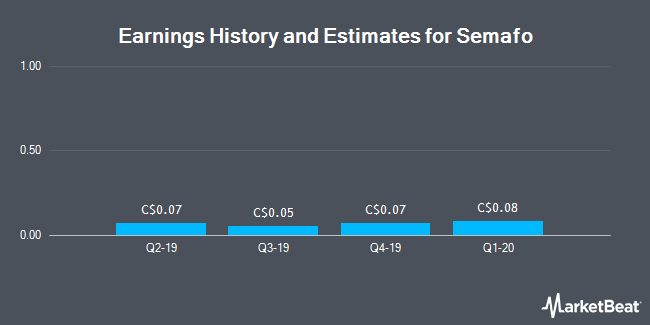 Receive News & Ratings for Semafo Daily - Enter your email address below to receive a concise daily summary of the latest news and analysts' ratings for Semafo and related companies with MarketBeat.com's FREE daily email newsletter.