SBERBANK RUSSIA/S (SBRCY) Upgraded to "Hold" at ValuEngine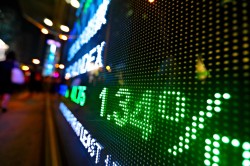 SBERBANK RUSSIA/S (OTCMKTS:SBRCY) was upgraded by research analysts at ValuEngine from a "sell" rating to a "hold" rating in a report issued on Wednesday, ValuEngine reports.
Separately, Keefe, Bruyette & Woods cut SBERBANK RUSSIA/S from an "outperform" rating to a "market perform" rating in a research report on Friday, March 8th.
OTCMKTS:SBRCY traded up $0.46 on Wednesday, hitting $15.36. The stock had a trading volume of 248,602 shares, compared to its average volume of 180,396. The stock has a market capitalization of $80.84 billion, a price-to-earnings ratio of 22.19 and a beta of 1.31. SBERBANK RUSSIA/S has a 52-week low of $9.69 and a 52-week high of $15.78.
SBERBANK RUSSIA/S Company Profile
Sberbank of Russia provides corporate and retail banking services to individuals, small businesses, corporate clients, and financial institutions. The company accepts fixed-term, settlement, and online deposits; savings certificates; trace and metals accounts; and certificates of deposit. Its loan products include consumer, mortgage, corporate, contract, overdraft, investment, working capital, and business start-up loans; loans for refinancing of loans; loans with bills; trade, lease transaction, development project, and carbon finance; loans to constituent entities and municipal units of the Russian Federation, defense industry companies, and agriculture industry; loans for financing of industrial projects; loans for cars, equipment, and real estate; loans for new projects; and interbank lending, guarantee, and loan refinance services.
Featured Article: Yield Curve
To view ValuEngine's full report, visit ValuEngine's official website.
Receive News & Ratings for SBERBANK RUSSIA/S Daily - Enter your email address below to receive a concise daily summary of the latest news and analysts' ratings for SBERBANK RUSSIA/S and related companies with MarketBeat.com's FREE daily email newsletter.