Saputo Inc. (SAP) Insider Sells C$521,400.00 in Stock
Saputo Inc. (TSE:SAP) insider Patrick Turcotte sold 12,000 shares of Saputo stock in a transaction on Thursday, June 14th. The shares were sold at an average price of C$43.45, for a total value of C$521,400.00.
Shares of Saputo traded up C$0.52, hitting C$43.53, during mid-day trading on Thursday, according to Marketbeat.com. 332,824 shares of the stock traded hands, compared to its average volume of 418,976. Saputo Inc. has a twelve month low of C$39.08 and a twelve month high of C$47.59.
Saputo (TSE:SAP) last released its quarterly earnings data on Thursday, June 7th. The company reported C$0.35 earnings per share for the quarter, missing the Thomson Reuters' consensus estimate of C$0.42 by C($0.07). Saputo had a net margin of 11.15% and a return on equity of 30.30%. The firm had revenue of C$2.74 billion for the quarter, compared to analyst estimates of C$2.71 billion.
SAP has been the topic of several recent research reports. TD Securities downgraded Saputo from a "buy" rating to a "hold" rating and cut their price objective for the company from C$50.00 to C$45.00 in a report on Tuesday, April 3rd. Desjardins cut their price objective on Saputo from C$49.00 to C$48.00 and set a "buy" rating on the stock in a report on Wednesday, April 4th. BMO Capital Markets set a C$44.00 price objective on Saputo and gave the company a "market perform" rating in a report on Thursday, April 19th. National Bank Financial cut their price objective on Saputo from C$46.00 to C$45.00 and set a "sector perform" rating on the stock in a report on Friday, June 8th. Finally, CIBC cut their price objective on Saputo from C$51.00 to C$50.00 in a report on Friday, June 8th. Four research analysts have rated the stock with a hold rating and three have assigned a buy rating to the stock. The stock presently has a consensus rating of "Hold" and an average target price of C$46.57.
Saputo Company Profile
Saputo Inc produces, markets, and distributes various dairy products in Canada, the United States, Argentina, and Australia. It offers a range of cheese products, such as mozzarella, American-style, specialty cheeses, cheddar, fine cheeses, and other cheeses; butter; and dairy and non-dairy extended shelf-life products, including cream and creamers, ice cream mixes, whipping creams, aerosol whipped toppings, iced coffee, and value-added milks, as well as cultured products, such as sour cream and cottage cheese.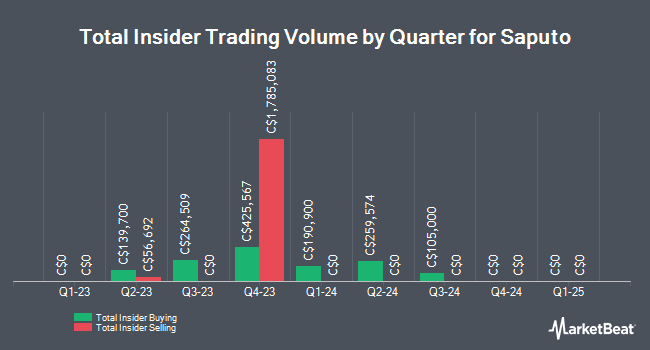 Receive News & Ratings for Saputo Daily - Enter your email address below to receive a concise daily summary of the latest news and analysts' ratings for Saputo and related companies with MarketBeat.com's FREE daily email newsletter.