Sanford C. Bernstein Begins Coverage on Basf (BASFY)
Analysts at Sanford C. Bernstein began coverage on shares of Basf (OTCMKTS:BASFY) in a note issued to investors on Monday, The Fly reports. The brokerage set a "market perform" rating on the basic materials company's stock.
Several other research analysts have also commented on the company. ValuEngine raised Basf from a "strong sell" rating to a "sell" rating in a research report on Saturday. Zacks Investment Research raised Basf from a "sell" rating to a "hold" rating in a research report on Wednesday, July 4th. One equities research analyst has rated the stock with a sell rating, six have assigned a hold rating and two have issued a buy rating to the company. The stock presently has a consensus rating of "Hold" and an average target price of $31.00.
Shares of Basf stock opened at $23.94 on Monday. Basf has a twelve month low of $21.79 and a twelve month high of $30.22. The firm has a market capitalization of $87.96 billion, a P/E ratio of 13.15, a PEG ratio of 1.27 and a beta of 1.16. The company has a debt-to-equity ratio of 0.47, a quick ratio of 1.43 and a current ratio of 2.07.
Basf (OTCMKTS:BASFY) last issued its earnings results on Friday, July 27th. The basic materials company reported $0.53 earnings per share for the quarter, missing the Zacks' consensus estimate of $0.55 by ($0.02). Basf had a net margin of 9.32% and a return on equity of 17.47%. The firm had revenue of $20.02 billion during the quarter. equities research analysts predict that Basf will post 1.99 EPS for the current year.
Basf Company Profile
BASF SE operates as a chemical company worldwide. It operates through five segments: Chemicals, Performance Products, Functional Materials & Solutions, Agricultural Solutions, and Oil & Gas. The Chemicals segment offers solvents, plasticizers, monomers, and glues, as well as raw materials for detergents, plastics, textile fibers, paints and coatings, crop protection products, and medicines.
See Also: How to Invest in an Index Fund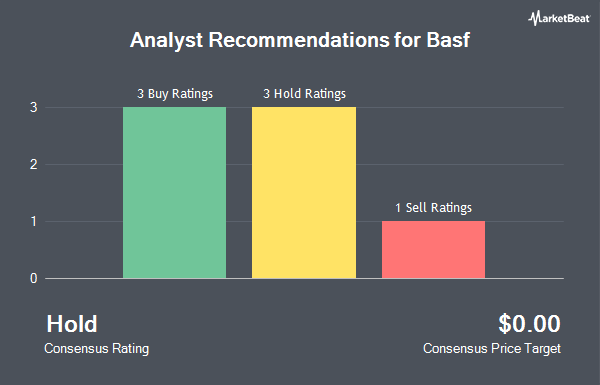 Receive News & Ratings for Basf Daily - Enter your email address below to receive a concise daily summary of the latest news and analysts' ratings for Basf and related companies with MarketBeat.com's FREE daily email newsletter.