Sandy Spring Bancorp Inc. (SASR) Plans $0.26 Quarterly Dividend
Sandy Spring Bancorp Inc. (NASDAQ:SASR) declared a quarterly dividend on Wednesday, January 31st, Zacks reports. Stockholders of record on Wednesday, February 14th will be given a dividend of 0.26 per share by the bank on Wednesday, February 21st. This represents a $1.04 dividend on an annualized basis and a dividend yield of 2.78%. The ex-dividend date is Tuesday, February 13th.
Sandy Spring Bancorp (SASR) traded down $0.13 during midday trading on Thursday, hitting $37.42. The stock had a trading volume of 34,781 shares, compared to its average volume of 232,539. Sandy Spring Bancorp has a 12 month low of $36.41 and a 12 month high of $45.64. The firm has a market capitalization of $888.96, a PE ratio of 17.05, a price-to-earnings-growth ratio of 0.95 and a beta of 0.93. The company has a debt-to-equity ratio of 1.12, a quick ratio of 1.03 and a current ratio of 1.03.
Sandy Spring Bancorp (NASDAQ:SASR) last released its quarterly earnings results on Thursday, January 18th. The bank reported $0.64 earnings per share for the quarter, topping the Zacks' consensus estimate of $0.63 by $0.01. Sandy Spring Bancorp had a return on equity of 10.91% and a net margin of 21.63%. The company had revenue of $55.79 million during the quarter, compared to analysts' expectations of $56.21 million. During the same period in the previous year, the firm posted $0.55 earnings per share. The business's revenue for the quarter was up 8.7% compared to the same quarter last year. analysts forecast that Sandy Spring Bancorp will post 3.07 EPS for the current fiscal year.
SASR has been the subject of a number of analyst reports. BidaskClub raised Sandy Spring Bancorp from a "sell" rating to a "hold" rating in a report on Wednesday, January 3rd. Boenning Scattergood reissued a "hold" rating on shares of Sandy Spring Bancorp in a report on Tuesday, January 2nd.
Zacks Investment Research
raised Sandy Spring Bancorp from a "hold" rating to a "strong-buy" rating and set a $45.00 price target for the company in a report on Thursday, January 4th. Sandler O'Neill set a $44.00 price target on Sandy Spring Bancorp and gave the stock a "hold" rating in a report on Friday, January 12th. Finally, Gabelli initiated coverage on Sandy Spring Bancorp in a research note on Monday, January 8th. They issued a "buy" rating and a $50.00 target price for the company. One analyst has rated the stock with a sell rating, three have assigned a hold rating, two have issued a buy rating and one has given a strong buy rating to the company. Sandy Spring Bancorp currently has a consensus rating of "Hold" and a consensus target price of $44.75.
In related news, Director Shaza L. Andersen sold 8,546 shares of the company's stock in a transaction on Monday, January 22nd. The stock was sold at an average price of $39.64, for a total value of $338,763.44. Following the completion of the transaction, the director now directly owns 77,344 shares in the company, valued at $3,065,916.16. The transaction was disclosed in a legal filing with the Securities & Exchange Commission, which is accessible through the SEC website. Also, EVP Ronda M. Mcdowell sold 1,872 shares of the company's stock in a transaction on Tuesday, January 30th. The shares were sold at an average price of $37.95, for a total value of $71,042.40. Following the completion of the transaction, the executive vice president now owns 5,090 shares of the company's stock, valued at $193,165.50. The disclosure for this sale can be found here. Insiders sold 11,956 shares of company stock valued at $469,219 over the last quarter. Insiders own 2.60% of the company's stock.
COPYRIGHT VIOLATION WARNING: This story was first reported by Watch List News and is the property of of Watch List News. If you are accessing this story on another website, it was illegally stolen and republished in violation of United States and international copyright & trademark laws. The original version of this story can be viewed at https://www.watchlistnews.com/sandy-spring-bancorp-inc-sasr-plans-0-26-quarterly-dividend/1852891.html.
About Sandy Spring Bancorp
Sandy Spring Bancorp, Inc is the bank holding company for Sandy Spring Bank (the Bank). The Company operates through three segments: Community Banking, Insurance and Investment Management. The Company's Community Banking segment operates through Sandy Spring Bank and involves delivering a range of financial products and services, including various loan and deposit products to both individuals and businesses.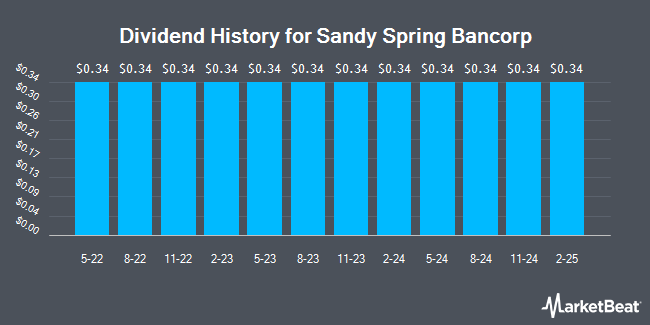 Receive News & Ratings for Sandy Spring Bancorp Daily - Enter your email address below to receive a concise daily summary of the latest news and analysts' ratings for Sandy Spring Bancorp and related companies with MarketBeat.com's FREE daily email newsletter.