Sandstorm Gold (SSL) PT Raised to C$7.50
Sandstorm Gold (TSE:SSL) had its target price raised by National Bank Financial from C$7.25 to C$7.50 in a report issued on Wednesday morning. The brokerage currently has an outperform rating on the stock. National Bank Financial also issued estimates for Sandstorm Gold's Q4 2017 earnings at $0.03 EPS and FY2018 earnings at $0.17 EPS.
SSL has been the topic of a number of other research reports. CIBC increased their price target on shares of Sandstorm Gold from C$5.50 to C$5.75 in a report on Thursday, December 14th. Canaccord Genuity cut their price objective on shares of Sandstorm Gold from C$10.00 to C$9.50 in a research note on Friday, September 29th. Two research analysts have rated the stock with a hold rating and four have given a buy rating to the stock. The company has a consensus rating of Buy and a consensus target price of C$7.38.
Sandstorm Gold (SSL) opened at C$6.43 on Wednesday. The company has a market cap of $1,160.00, a price-to-earnings ratio of 91.86 and a beta of -0.92. Sandstorm Gold has a twelve month low of C$4.37 and a twelve month high of C$6.81.
In other Sandstorm Gold news, Director David Awram acquired 23,000 shares of the business's stock in a transaction dated Tuesday, December 5th. The stock was bought at an average price of C$5.49 per share, with a total value of C$126,270.00.
ILLEGAL ACTIVITY WARNING: "Sandstorm Gold (SSL) PT Raised to C$7.50" was originally reported by Watch List News and is the sole property of of Watch List News. If you are viewing this piece on another site, it was copied illegally and reposted in violation of US & international trademark and copyright legislation. The legal version of this piece can be read at https://www.watchlistnews.com/sandstorm-gold-ssl-pt-raised-to-c7-50/1780448.html.
Sandstorm Gold Company Profile
Sandstorm Gold Ltd., a resource-based company, focuses on acquiring gold and other metal purchase agreements and royalties from companies that have advanced stage development projects or operating mines. The company offers upfront payments for companies to acquire a gold stream or royalty in return, it receives the right to purchase a percentage of a mine's production for the life of the mine at a fixed or variable price per unit.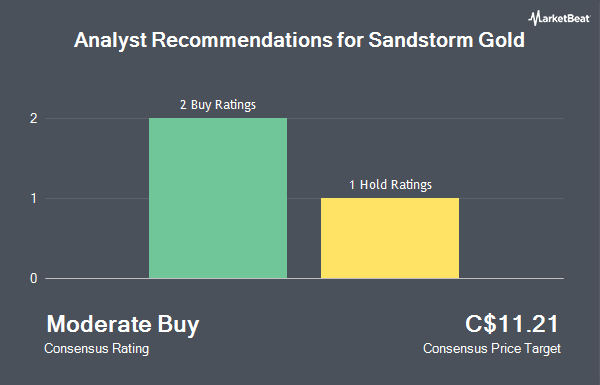 Receive News & Ratings for Sandstorm Gold Daily - Enter your email address below to receive a concise daily summary of the latest news and analysts' ratings for Sandstorm Gold and related companies with Analyst Ratings Network's FREE daily email newsletter.