Sandstorm Gold Ltd (SSL) Given Average Recommendation of "Buy" by Brokerages
Sandstorm Gold Ltd (TSE:SSL) (NASDAQ:SAND) has received a consensus recommendation of "Buy" from the six analysts that are currently covering the stock, MarketBeat.com reports. Two analysts have rated the stock with a hold recommendation and three have assigned a buy recommendation to the company. The average 1 year price objective among brokerages that have covered the stock in the last year is C$7.10.
Several research analysts recently commented on SSL shares. Canaccord Genuity cut their price target on shares of Sandstorm Gold from C$10.00 to C$9.50 in a report on Friday, September 29th. CIBC lowered shares of Sandstorm Gold from an "outperform" rating to a "neutral" rating and cut their price target for the company from C$6.00 to C$5.50 in a report on Thursday, June 22nd. National Bank Financial restated an "outperform" rating on shares of Sandstorm Gold in a report on Tuesday. Finally, Royal Bank Of Canada restated an "outperform" rating and issued a C$7.50 price target on shares of Sandstorm Gold in a report on Monday, July 10th.
Shares of Sandstorm Gold (TSE:SSL) opened at 5.51 on Thursday. The stock has a market capitalization of $1.02 billion and a P/E ratio of 72.50. Sandstorm Gold has a 52 week low of $4.29 and a 52 week high of $6.87. The company's 50-day moving average is $5.79 and its 200 day moving average is $5.33.
COPYRIGHT VIOLATION NOTICE: This piece of content was originally published by Watch List News and is owned by of Watch List News. If you are accessing this piece of content on another publication, it was illegally copied and republished in violation of US and international copyright laws. The original version of this piece of content can be read at https://www.watchlistnews.com/sandstorm-gold-ltd-ssl-given-average-recommendation-of-buy-by-brokerages/1640971.html.
Sandstorm Gold Company Profile
Sandstorm Gold Ltd is a Canada-based company engaged in providing financing to mining companies. The Company focuses on acquiring gold and other metal purchase agreements (Gold Streams or Silver Streams), and royalties from companies that have advanced stage development projects or operating mines. The Company operates in the segments of Bachelor Lake, Black Fox, Chapada Santa Elena, Yamana Silver Stream, Chapada, Diavik Mine, Other Royalties, Other and Corporate.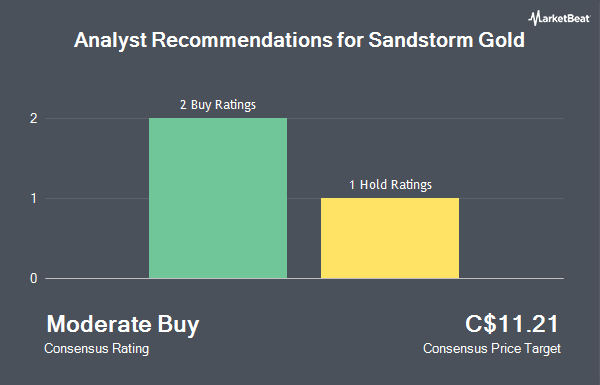 Receive News & Ratings for Sandstorm Gold Ltd Daily - Enter your email address below to receive a concise daily summary of the latest news and analysts' ratings for Sandstorm Gold Ltd and related companies with Analyst Ratings Network's FREE daily email newsletter.