Royce & Associates LP Has $992,000 Stake in Pope Resources (POPE)
Royce & Associates LP maintained its stake in Pope Resources (NASDAQ:POPE) during the 2nd quarter, according to its most recent Form 13F filing with the SEC. The fund owned 13,400 shares of the construction company's stock at the end of the 2nd quarter. Royce & Associates LP owned approximately 0.31% of Pope Resources worth $992,000 as of its most recent SEC filing.
ILLEGAL ACTIVITY NOTICE: This piece was originally reported by Watch List News and is owned by of Watch List News. If you are viewing this piece on another website, it was illegally stolen and republished in violation of United States and international copyright and trademark law. The legal version of this piece can be accessed at https://www.watchlistnews.com/royce-associates-lp-has-992000-stake-in-pope-resources-pope/1567968.html.
In other Pope Resources news, VP Jonathan P. Rose sold 500 shares of the company's stock in a transaction on Wednesday, August 30th. The stock was sold at an average price of $73.10, for a total value of $36,550.00. Following the completion of the sale, the vice president now directly owns 7,770 shares in the company, valued at approximately $567,987. The sale was disclosed in a document filed with the SEC, which can be accessed through this link. 11.20% of the stock is owned by corporate insiders.
Shares of Pope Resources (NASDAQ POPE) opened at 69.60 on Friday. The company has a market capitalization of $301.16 million, a P/E ratio of 30.27 and a beta of 0.29. The company has a 50-day moving average price of $71.05 and a 200-day moving average price of $71.85. Pope Resources has a 12 month low of $63.30 and a 12 month high of $79.50.
Pope Resources (NASDAQ:POPE) last issued its earnings results on Friday, August 4th. The construction company reported $0.03 earnings per share (EPS) for the quarter. The company had revenue of $15.89 million during the quarter. Pope Resources had a return on equity of 7.36% and a net margin of 11.20%.
The business also recently announced a quarterly dividend, which will be paid on Tuesday, September 19th. Shareholders of record on Tuesday, September 5th will be issued a $0.70 dividend. This represents a $2.80 annualized dividend and a yield of 4.02%. The ex-dividend date of this dividend is Thursday, August 31st. Pope Resources's payout ratio is currently 121.74%.
Pope Resources declared that its board has authorized a share repurchase program on Tuesday, May 30th that allows the company to buyback $1.20 million in shares. This buyback authorization allows the construction company to purchase up to 0.4% of its stock through open market purchases. Stock buyback programs are often an indication that the company's management believes its stock is undervalued.
Pope Resources Profile
Pope Resources, A Delaware Limited Partnership is engaged primarily in managing timber resources on its own properties, as well as those owned by others. The Company operates through three business segments: Fee Timber, Timberland Management and Real Estate. The Fee Timber operations consisted of growing and harvesting timber from approximately 212,000 acres that the Company owned or co-owned with its timber fund investors as tree farms, as of December 31, 2016.
Want to see what other hedge funds are holding POPE? Visit HoldingsChannel.com to get the latest 13F filings and insider trades for Pope Resources (NASDAQ:POPE).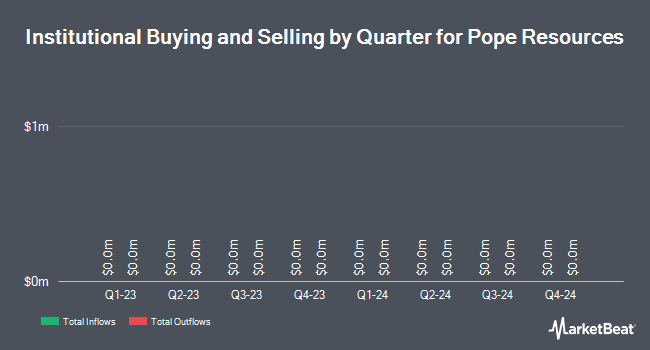 Receive News & Ratings for Pope Resources Daily - Enter your email address below to receive a concise daily summary of the latest news and analysts' ratings for Pope Resources and related companies with Analyst Ratings Network's FREE daily email newsletter.