Repligen (RGEN) Set to Announce Earnings on Thursday
Repligen (NASDAQ:RGEN) is scheduled to be posting its quarterly earnings results before the market opens on Thursday, May 3rd. Analysts expect Repligen to post earnings of $0.17 per share for the quarter. Repligen has set its FY18 guidance at $0.68-0.72 EPS.
Repligen (NASDAQ:RGEN) last released its quarterly earnings data on Thursday, February 22nd. The biotechnology company reported $0.20 EPS for the quarter, beating the Thomson Reuters' consensus estimate of $0.12 by $0.08. The business had revenue of $41.60 million for the quarter, compared to the consensus estimate of $41.13 million. Repligen had a net margin of 20.08% and a return on equity of 7.08%. The company's revenue was up 62.5% compared to the same quarter last year. During the same period in the prior year, the firm earned $0.08 earnings per share. On average, analysts expect Repligen to post $1 EPS for the current fiscal year and $1 EPS for the next fiscal year.
NASDAQ RGEN opened at $37.63 on Thursday. The stock has a market cap of $1,655.94, a price-to-earnings ratio of 54.54, a price-to-earnings-growth ratio of 2.54 and a beta of 0.87. Repligen has a 52 week low of $29.56 and a 52 week high of $46.81. The company has a current ratio of 9.63, a quick ratio of 8.08 and a debt-to-equity ratio of 0.17.
In other news, Director Thomas F. Ryan, Jr. sold 4,696 shares of the stock in a transaction dated Thursday, March 8th. The shares were sold at an average price of $36.16, for a total value of $169,807.36. Following the sale, the director now directly owns 9,700 shares of the company's stock, valued at $350,752. The sale was disclosed in a legal filing with the SEC, which is available at
this link
. Corporate insiders own 1.50% of the company's stock.
Several equities research analysts have commented on the stock. Zacks Investment Research downgraded shares of Repligen from a "buy" rating to a "hold" rating in a report on Wednesday, January 24th. BidaskClub downgraded shares of Repligen from a "buy" rating to a "hold" rating in a report on Wednesday, January 10th. Finally, TheStreet raised shares of Repligen from a "c" rating to a "b-" rating in a report on Tuesday, March 13th. Three investment analysts have rated the stock with a hold rating and six have issued a buy rating to the company. The company presently has a consensus rating of "Buy" and an average target price of $44.38.
ILLEGAL ACTIVITY NOTICE: This news story was originally posted by Watch List News and is the property of of Watch List News. If you are viewing this news story on another publication, it was stolen and republished in violation of United States and international copyright laws. The correct version of this news story can be viewed at https://www.watchlistnews.com/repligen-rgen-set-to-announce-earnings-on-thursday/2057641.html.
Repligen Company Profile
Repligen Corporation, a bioprocessing company, focuses on the development, manufacture, and commercialization of products used to enhance the interconnected phases of the biological drug manufacturing process worldwide. It manufactures and supplies Protein A ligands to life sciences companies, which are the binding components of Protein A affinity resins for use in the downstream purification of monoclonal antibodies; and growth factor products used to supplement cell culture media to increase cell growth and productivity in a bioreactor.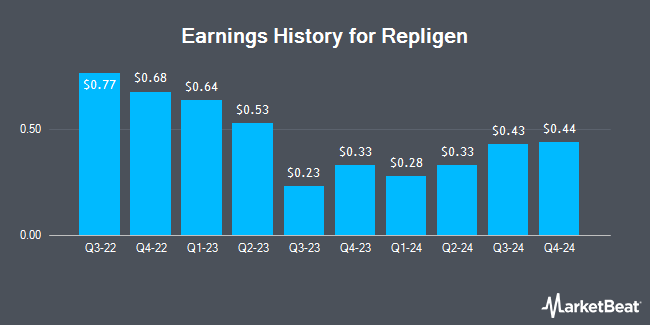 Receive News & Ratings for Repligen Daily - Enter your email address below to receive a concise daily summary of the latest news and analysts' ratings for Repligen and related companies with MarketBeat.com's FREE daily email newsletter.