Repligen Corporation (RGEN) Issues Earnings Results, Beats Expectations By $0.04 EPS
Repligen Corporation (NASDAQ:RGEN) released its quarterly earnings results on Thursday. The biotechnology company reported $0.15 earnings per share for the quarter, beating the Zacks' consensus estimate of $0.11 by $0.04, Bloomberg Earnings reports. The business had revenue of $36.58 million during the quarter, compared to analyst estimates of $35.69 million. Repligen Corporation had a net margin of 16.93% and a return on equity of 11.78%. The business's revenue was up 48.2% on a year-over-year basis. During the same period last year, the business earned $0.08 EPS. Repligen Corporation updated its FY17 guidance to $0.60-0.63 EPS.
Shares of Repligen Corporation (RGEN) traded down $1.46 during mid-day trading on Friday, reaching $34.72. 535,939 shares of the company's stock traded hands, compared to its average volume of 483,792. The firm has a market cap of $1,450.00, a price-to-earnings ratio of 62.38, a P/E/G ratio of 2.40 and a beta of 1.05. The company has a debt-to-equity ratio of 0.51, a quick ratio of 10.29 and a current ratio of 11.87. Repligen Corporation has a 52 week low of $28.48 and a 52 week high of $46.81.
COPYRIGHT VIOLATION NOTICE: This story was published by Watch List News and is the sole property of of Watch List News. If you are accessing this story on another publication, it was copied illegally and reposted in violation of US and international copyright and trademark law. The correct version of this story can be accessed at https://www.watchlistnews.com/repligen-corporation-rgen-issues-earnings-results-beats-expectations-by-0-04-eps/1695541.html.
A number of equities research analysts recently weighed in on RGEN shares. BidaskClub raised shares of Repligen Corporation from a "hold" rating to a "buy" rating in a report on Wednesday, August 9th. Zacks Investment Research raised shares of Repligen Corporation from a "hold" rating to a "buy" rating and set a $43.00 price objective for the company in a report on Thursday, October 5th. William Blair started coverage on shares of Repligen Corporation in a report on Friday, July 21st. They set an "outperform" rating for the company. TheStreet raised shares of Repligen Corporation from a "c+" rating to a "b-" rating in a report on Friday, August 11th. Finally, Stephens reissued an "overweight" rating and set a $50.00 price objective on shares of Repligen Corporation in a report on Tuesday, September 26th. Two research analysts have rated the stock with a hold rating and four have issued a buy rating to the company. Repligen Corporation currently has a consensus rating of "Buy" and a consensus price target of $45.40.
About Repligen Corporation
Repligen Corporation is a bioprocessing company. The Company is focused on the development, manufacture and commercialization of products used to improve the interconnected phases of the biological drug manufacturing process. The Company's portfolio includes protein products, chromatography products, and filtration products.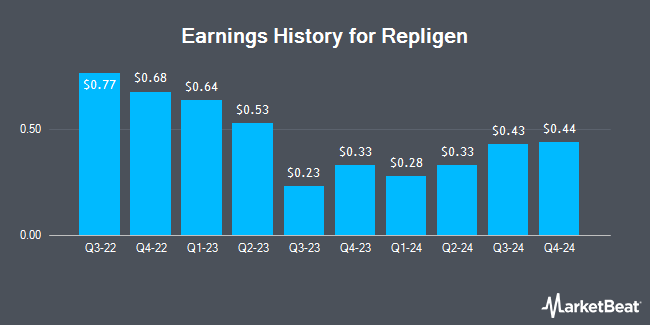 Receive News & Ratings for Repligen Corporation Daily - Enter your email address below to receive a concise daily summary of the latest news and analysts' ratings for Repligen Corporation and related companies with Analyst Ratings Network's FREE daily email newsletter.