Rentokil Initial (RTO) Earns Add Rating from Peel Hunt
Rentokil Initial (LON:RTO)'s stock had its "add" rating restated by analysts at Peel Hunt in a report released on Tuesday. They currently have a GBX 343 ($4.65) price target on the stock, down from their prior price target of GBX 348 ($4.72). Peel Hunt's price target suggests a potential upside of 11.84% from the stock's previous close.
RTO has been the topic of several other research reports. JPMorgan Chase & Co. reissued an "underweight" rating and issued a GBX 211 ($2.86) target price on shares of Rentokil Initial in a research note on Friday, October 20th. HSBC increased their target price on Rentokil Initial from GBX 235 ($3.19) to GBX 290 ($3.93) and gave the company a "hold" rating in a research note on Friday, November 17th. Credit Suisse Group lowered Rentokil Initial to a "neutral" rating and increased their target price for the company from GBX 320 ($4.34) to GBX 340 ($4.61) in a research note on Wednesday, January 3rd. Jefferies Group initiated coverage on Rentokil Initial in a research note on Monday, December 4th. They issued a "hold" rating and a GBX 335 ($4.54) target price on the stock. Finally, Goldman Sachs Group initiated coverage on Rentokil Initial in a research note on Monday, December 4th. They issued a "buy" rating and a GBX 400 ($5.42) target price on the stock. One investment analyst has rated the stock with a sell rating, seven have given a hold rating and six have given a buy rating to the company's stock. The company presently has an average rating of "Hold" and an average target price of GBX 298.93 ($4.05).
Shares of Rentokil Initial (LON:RTO) opened at GBX 303.40 ($4.11) on Tuesday. The firm has a market capitalization of $5,670.00 and a price-to-earnings ratio of 820.00. Rentokil Initial has a 52-week low of GBX 216.68 ($2.94) and a 52-week high of GBX 338.80 ($4.59).
In other Rentokil Initial news, insider Linda Yueh purchased 1,590 shares of the company's stock in a transaction dated Friday, December 22nd. The shares were bought at an average price of GBX 311 ($4.22) per share, with a total value of £4,944.90 ($6,705.86).
ILLEGAL ACTIVITY WARNING: This news story was originally reported by Watch List News and is the sole property of of Watch List News. If you are accessing this news story on another site, it was stolen and reposted in violation of United States & international copyright & trademark law. The legal version of this news story can be viewed at https://www.watchlistnews.com/rentokil-initial-rto-earns-add-rating-from-peel-hunt/1818965.html.
Rentokil Initial Company Profile
Rentokil Initial plc is a commercial pest control company. The Company is engaged in the provision of route-based services, which protect people and enhance lives. The Company's segments include Europe, UK & Rest of World, Asia, North America, Pacific, and Central and regional. The Company's business categories include Pest Control, Hygiene, Workwear and Other.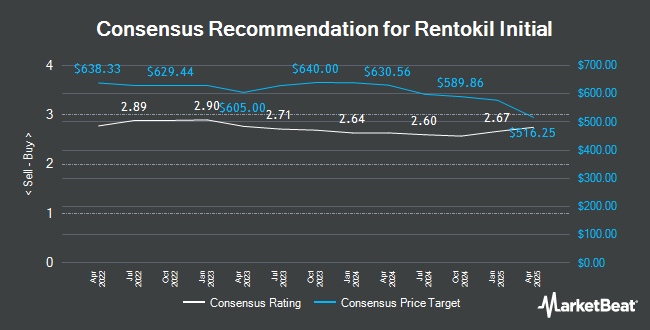 Receive News & Ratings for Rentokil Initial Daily - Enter your email address below to receive a concise daily summary of the latest news and analysts' ratings for Rentokil Initial and related companies with MarketBeat.com's FREE daily email newsletter.