Renaissance Technologies LLC Has $412,000 Holdings in MFC Bancorp Ltd (MFCB)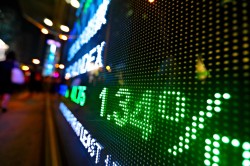 Renaissance Technologies LLC trimmed its position in shares of MFC Bancorp Ltd (NYSE:MFCB) by 14.8% in the 3rd quarter, according to the company in its most recent disclosure with the SEC. The fund owned 67,570 shares of the financial services provider's stock after selling 11,700 shares during the quarter. Renaissance Technologies LLC's holdings in MFC Bancorp were worth $412,000 at the end of the most recent reporting period.
MFCB opened at $6.57 on Friday. MFC Bancorp Ltd has a 52-week low of $4.00 and a 52-week high of $7.66. The company has a current ratio of 4.62, a quick ratio of 4.13 and a debt-to-equity ratio of 0.01.
Separately, Robert W. Baird reissued a "hold" rating on shares of MFC Bancorp in a research report on Wednesday, January 16th.
ILLEGAL ACTIVITY WARNING: "Renaissance Technologies LLC Has $412,000 Holdings in MFC Bancorp Ltd (MFCB)" was originally published by Watch List News and is the property of of Watch List News. If you are accessing this report on another domain, it was illegally stolen and republished in violation of international copyright legislation. The correct version of this report can be read at https://www.watchlistnews.com/renaissance-technologies-llc-has-412000-holdings-in-mfc-bancorp-ltd-mfcb/2807458.html.
MFC Bancorp Company Profile
MFC Bancorp Ltd., a merchant banking company, provides various financial services for corporations and institutions worldwide. It operates through two segments, Merchant Banking and All Other. The company specializes in markets that are not adequately addressed by traditional sources of supply and finance, with focus on providing solutions for small and medium sized enterprises.
Further Reading: What is the quiet period?
Want to see what other hedge funds are holding MFCB? Visit HoldingsChannel.com to get the latest 13F filings and insider trades for MFC Bancorp Ltd (NYSE:MFCB).
Receive News & Ratings for MFC Bancorp Daily - Enter your email address below to receive a concise daily summary of the latest news and analysts' ratings for MFC Bancorp and related companies with MarketBeat.com's FREE daily email newsletter.