GeneDx Holdings Corp. (NASDAQ:WGS – Get Rating) – Jefferies Financial Group boosted their Q1 2023 earnings per share (EPS) estimates for GeneDx in a research report issued to clients and investors on Wednesday, March 15th. Jefferies Financial Group analyst B. Couillard now expects that the company will post earnings per share of ($0.05) for the quarter, up from their previous forecast of ($0.14). The consensus estimate for GeneDx's current full-year earnings is ($0.18) per share. Jefferies Financial Group also issued estimates for GeneDx's Q2 2023 earnings at ($0.04) EPS, Q3 2023 earnings at ($0.04) EPS, Q4 2023 earnings at ($0.04) EPS, FY2023 earnings at ($0.18) EPS and FY2024 earnings at ($0.15) EPS.
GeneDx Price Performance
Shares of WGS opened at $0.36 on Friday. The company has a current ratio of 1.89, a quick ratio of 1.62 and a debt-to-equity ratio of 0.02. GeneDx has a 12 month low of $0.22 and a 12 month high of $3.28. The firm has a 50 day simple moving average of $0.43.
Insider Buying and Selling at GeneDx
In other news, CEO Katherine Stueland sold 92,644 shares of the firm's stock in a transaction that occurred on Friday, March 10th. The stock was sold at an average price of $0.36, for a total value of $33,351.84. Following the transaction, the chief executive officer now owns 308,574 shares in the company, valued at $111,086.64. The transaction was disclosed in a document filed with the SEC, which is accessible through
this hyperlink
. Over the last three months, insiders have sold 157,307 shares of company stock valued at $56,631.
GeneDx Company Profile
Sema4 Holdings Corp is a patient-centered health intelligence company. It is transforming healthcare by applying AI and machine learning to multidimensional, longitudinal clinical and genomic data to build dynamic models of human health and defining optimal, individualized health trajectories. Sema4 Holdings Corp, formerly known as CM Life Sciences, is based in STAMFORD, Conn.
Featured Stories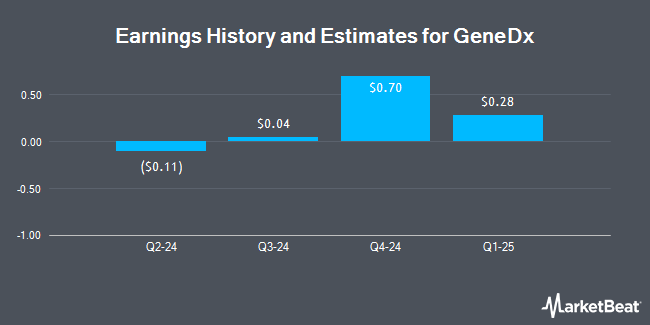 Receive News & Ratings for GeneDx Daily - Enter your email address below to receive a concise daily summary of the latest news and analysts' ratings for GeneDx and related companies with MarketBeat.com's FREE daily email newsletter.