Pizza Pizza Royalty Corp (PZA) Announces Monthly Dividend of $0.07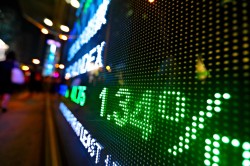 Pizza Pizza Royalty Corp (TSE:PZA) announced a monthly dividend on Thursday, September 27th, TickerTech reports. Stockholders of record on Monday, October 15th will be paid a dividend of 0.0713 per share on Monday, October 15th. This represents a $0.86 dividend on an annualized basis and a dividend yield of 8.85%. The ex-dividend date is Thursday, September 27th. This is a positive change from Pizza Pizza Royalty's previous monthly dividend of $0.07.
Shares of Pizza Pizza Royalty stock traded down C$0.07 on Friday, reaching C$9.67. 82,267 shares of the company were exchanged, compared to its average volume of 40,475. Pizza Pizza Royalty has a 1-year low of C$9.28 and a 1-year high of C$17.40.
Pizza Pizza Royalty (TSE:PZA) last announced its quarterly earnings results on Wednesday, August 8th. The company reported C$0.15 earnings per share for the quarter. Pizza Pizza Royalty had a return on equity of 9.93% and a net margin of 74.55%. The business had revenue of C$131.06 million for the quarter.
Separately, TD Securities lowered their target price on Pizza Pizza Royalty from C$15.00 to C$11.50 in a research report on Thursday, August 9th.
Pizza Pizza Royalty Company Profile
Pizza Pizza Royalty Corp., through its subsidiary, Pizza Pizza Royalty Limited Partnership, owns and franchises quick service restaurants under the Pizza Pizza and Pizza 73 brands in Canada. As of January 1, 2018, the company had 758 restaurants in the royalty pool. Pizza Pizza Royalty Corp. was founded in 1967 and is headquartered in Toronto, Canada.
See Also: Growth Stocks
Receive News & Ratings for Pizza Pizza Royalty Daily - Enter your email address below to receive a concise daily summary of the latest news and analysts' ratings for Pizza Pizza Royalty and related companies with MarketBeat.com's FREE daily email newsletter.