Pierre Lassonde Sells 20,000 Shares of Franco Nevada Corp (FNV) Stock
Franco Nevada Corp (TSE:FNV) (NYSE:FNV) Director Pierre Lassonde sold 20,000 shares of the business's stock in a transaction dated Friday, December 15th. The stock was sold at an average price of C$97.96, for a total value of C$1,959,200.00.
Shares of Franco Nevada Corp (FNV) opened at C$98.93 on Thursday. Franco Nevada Corp has a 52 week low of C$75.48 and a 52 week high of C$110.18.
The business also recently declared a quarterly dividend, which will be paid on Thursday, December 21st. Stockholders of record on Thursday, December 7th will be paid a $0.296 dividend. The ex-dividend date is Wednesday, December 6th. This is a boost from Franco Nevada's previous quarterly dividend of $0.23. This represents a $1.18 dividend on an annualized basis and a dividend yield of 1.20%. Franco Nevada's dividend payout ratio is 87.38%.
Several analysts have weighed in on FNV shares. Bank of America boosted their price objective on Franco Nevada from C$107.00 to C$110.00 in a report on Friday, September 8th. CIBC upped their price target on Franco Nevada from C$110.00 to C$120.00 in a research note on Tuesday, November 7th. Canaccord Genuity upped their price target on Franco Nevada from C$119.00 to C$121.00 in a research note on Tuesday, November 7th. TD Securities upped their price target on Franco Nevada to C$123.50 and gave the company a "buy" rating in a research note on Tuesday, November 7th. Finally, Eight Capital reaffirmed a "neutral" rating on shares of Franco Nevada in a research note on Thursday, November 16th. One equities research analyst has rated the stock with a sell rating, five have given a hold rating and two have assigned a buy rating to the stock. The stock currently has an average rating of "Hold" and a consensus price target of C$109.06.
TRADEMARK VIOLATION NOTICE: This news story was originally published by Watch List News and is the sole property of of Watch List News. If you are reading this news story on another site, it was illegally stolen and reposted in violation of U.S. and international trademark & copyright legislation. The legal version of this news story can be accessed at https://www.watchlistnews.com/pierre-lassonde-sells-20000-shares-of-franco-nevada-corp-fnv-stock/1775641.html.
About Franco Nevada
Franco-Nevada Corporation (Franco-Nevada) is a gold-focused royalty and stream company. The Company has interests in silver, platinum group metals, oil and gas and other resource assets. The Company is engaged in resource sector royalty/stream acquisitions and management activities. It has a portfolio of properties in the United States, Canada, Mexico, Peru, Chile and Africa.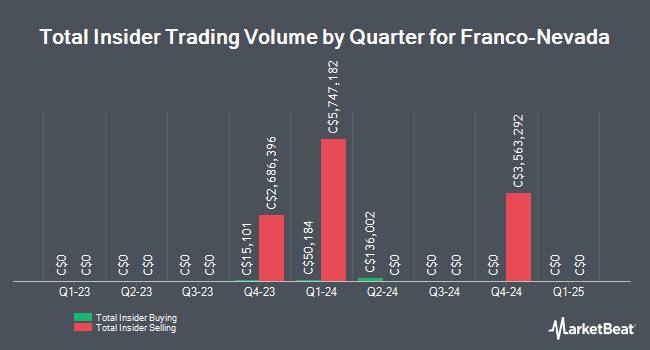 Receive News & Ratings for Franco Nevada Daily - Enter your email address below to receive a concise daily summary of the latest news and analysts' ratings for Franco Nevada and related companies with MarketBeat.com's FREE daily email newsletter.