Phoenix Group (PHNX) Given New GBX 688 Price Target at Barclays
Phoenix Group (LON:PHNX) had its price objective increased by Barclays from GBX 667 ($8.60) to GBX 688 ($8.88) in a research report report published on Friday morning. The firm currently has an underweight rating on the stock.
Several other equities analysts have also commented on the company. Deutsche Bank reiterated a hold rating and set a GBX 700.50 ($9.04) price objective (down from GBX 740 ($9.55)) on shares of Phoenix Group in a research report on Friday, August 24th. Numis Securities upgraded Phoenix Group to an add rating and reduced their price objective for the company from GBX 838 ($10.81) to GBX 755 ($9.74) in a research report on Friday, July 13th. Finally, Royal Bank of Canada upgraded Phoenix Group to a top pick rating and set a GBX 820 ($10.58) price objective on the stock in a research report on Monday, July 9th. One equities research analyst has rated the stock with a sell rating, three have given a hold rating, three have issued a buy rating and one has assigned a strong buy rating to the company's stock. The stock presently has a consensus rating of Buy and a consensus target price of GBX 791.79 ($10.21).
LON PHNX traded down GBX 9 ($0.12) during trading on Friday, reaching GBX 683.50 ($8.82). The company's stock had a trading volume of 1,612,174 shares, compared to its average volume of 1,360,000. Phoenix Group has a one year low of GBX 719 ($9.28) and a one year high of GBX 820 ($10.58).
Phoenix Group (LON:PHNX) last announced its earnings results on Thursday, August 23rd. The company reported GBX (6.10) (($0.08)) earnings per share for the quarter. Phoenix Group had a negative return on equity of 5.87% and a negative net margin of 3.26%.
The company also recently disclosed a dividend, which will be paid on Monday, October 1st. Stockholders of record on Thursday, September 6th will be given a dividend of GBX 22.60 ($0.29) per share. The ex-dividend date is Thursday, September 6th. This represents a dividend yield of 3.2%.
Phoenix Group Company Profile
Phoenix Group Holdings, a closed life assurance fund consolidator, acquires and manages closed life and pension funds primarily in the United Kingdom. It also provides financing services. The company was formerly known as Pearl Group and changed its name to Phoenix Group Holdings in March 2010. Phoenix Group Holdings was founded in 1782 and is headquartered in London, the United Kingdom.
Recommended Story: Discover Your Risk Tolerance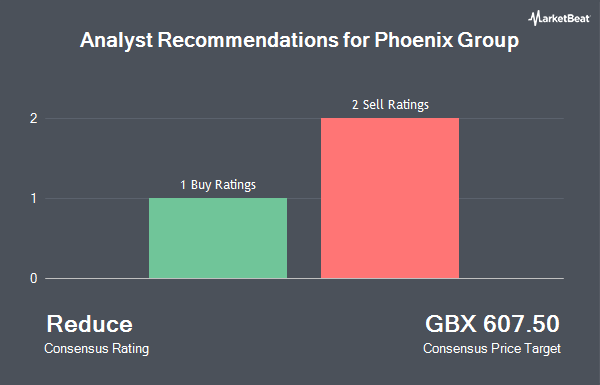 Receive News & Ratings for Phoenix Group Daily - Enter your email address below to receive a concise daily summary of the latest news and analysts' ratings for Phoenix Group and related companies with MarketBeat.com's FREE daily email newsletter.