Penns Woods Bancorp, Inc. (PWOD) Declares Quarterly Dividend of $0.47
Penns Woods Bancorp, Inc. (NASDAQ:PWOD) announced a quarterly dividend on Monday, August 21st, RTT News reports. Stockholders of record on Tuesday, September 12th will be given a dividend of 0.47 per share by the financial services provider on Tuesday, September 26th. This represents a $1.88 dividend on an annualized basis and a dividend yield of 4.48%.
Shares of Penns Woods Bancorp (NASDAQ:PWOD) traded down 0.50% during midday trading on Monday, reaching $41.97. The company had a trading volume of 30,272 shares. The stock has a market capitalization of $196.76 million, a PE ratio of 16.86 and a beta of 1.00. The stock's 50 day moving average is $41.81 and its 200-day moving average is $42.89. Penns Woods Bancorp has a 12-month low of $38.12 and a 12-month high of $52.65.
ILLEGAL ACTIVITY WARNING: This report was published by Watch List News and is owned by of Watch List News. If you are reading this report on another publication, it was illegally copied and republished in violation of United States and international trademark & copyright legislation. The legal version of this report can be viewed at https://www.watchlistnews.com/penns-woods-bancorp-inc-pwod-declares-quarterly-dividend-of-0-47/1513925.html.
Several brokerages recently weighed in on PWOD. TheStreet raised shares of Penns Woods Bancorp from a "c+" rating to a "b-" rating in a report on Monday, August 14th. ValuEngine downgraded shares of Penns Woods Bancorp from a "buy" rating to a "hold" rating in a report on Saturday, June 24th.
Penns Woods Bancorp Company Profile
Penns Woods Bancorp, Inc is a bank holding company. The Company operates through its subsidiaries: Jersey Shore State Bank (JSSB) and Luzerne Bank (Luzerne) (collectively known as the Banks); Woods Real Estate Development Company, Inc; Woods Investment Company, Inc, and The M Group, a subsidiary of JSSB.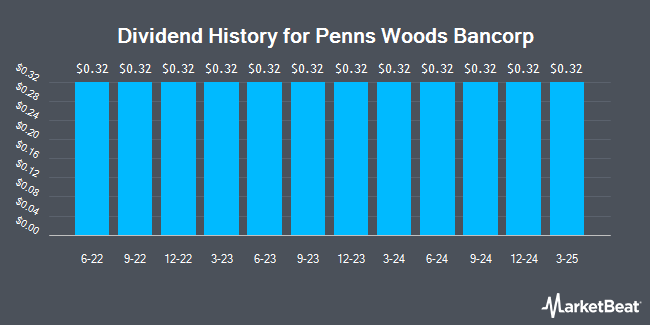 Receive News & Ratings for Penns Woods Bancorp Inc. Daily - Enter your email address below to receive a concise daily summary of the latest news and analysts' ratings for Penns Woods Bancorp Inc. and related companies with Analyst Ratings Network's FREE daily email newsletter.