Peel Hunt Trims Brewin Dolphin (BRW) Target Price to GBX 390
Brewin Dolphin (LON:BRW) had its price target dropped by Peel Hunt from GBX 435 ($5.68) to GBX 390 ($5.10) in a research report issued on Tuesday. The brokerage presently has a "buy" rating on the stock. Peel Hunt's target price would suggest a potential upside of 21.65% from the company's previous close.
BRW has been the topic of a number of other reports. Liberum Capital cut their price target on Brewin Dolphin from GBX 481 ($6.29) to GBX 394 ($5.15) and set a "buy" rating on the stock in a report on Wednesday, November 28th. Numis Securities restated a "hold" rating and set a GBX 350 ($4.57) price target on shares of Brewin Dolphin in a report on Monday, October 8th. Finally, Shore Capital restated a "buy" rating on shares of Brewin Dolphin in a report on Monday, August 13th. Two research analysts have rated the stock with a hold rating and five have issued a buy rating to the company. The stock currently has an average rating of "Buy" and an average price target of GBX 389.83 ($5.09).
Brewin Dolphin stock opened at GBX 320.60 ($4.19) on Tuesday. Brewin Dolphin has a 52-week low of GBX 297.50 ($3.89) and a 52-week high of GBX 399.40 ($5.22).
Brewin Dolphin Company Profile
Brewin Dolphin Holdings PLC, together with its subsidiaries, provides wealth management services in the United Kingdom, the Channel Islands, and the Republic of Ireland. It also offers investment management, financial planning, advisory, managed portfolio, and Brewin portfolio services, as well as custody, trade execution, and settlement services to private clients, charities, corporates, and intermediaries.
Further Reading: How much can an individual set aside as a catch-up contribution?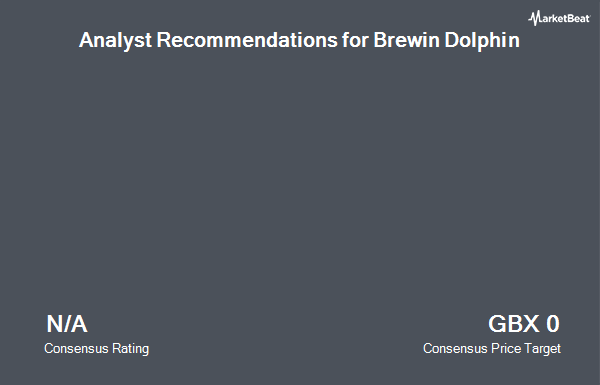 Receive News & Ratings for Brewin Dolphin Daily - Enter your email address below to receive a concise daily summary of the latest news and analysts' ratings for Brewin Dolphin and related companies with MarketBeat.com's FREE daily email newsletter.