Peel Hunt Boosts Patisserie (CAKE) Price Target to GBX 500
Patisserie (LON:CAKE) had its price objective lifted by research analysts at Peel Hunt from GBX 450 ($6.10) to GBX 500 ($6.78) in a research note issued on Tuesday. The firm presently has a "buy" rating on the stock. Peel Hunt's price objective would indicate a potential upside of 15.34% from the company's previous close.
Separately, Berenberg Bank reissued a "buy" rating and issued a GBX 400 ($5.43) price objective on shares of Patisserie in a report on Thursday, February 15th. Five investment analysts have rated the stock with a buy rating, The company currently has an average rating of "Buy" and an average price target of GBX 432.50 ($5.87).
Patisserie opened at GBX 433.50 ($5.88) on Tuesday, according to Marketbeat Ratings. Patisserie has a 12-month low of GBX 290 ($3.93) and a 12-month high of GBX 406 ($5.51).
Patisserie Company Profile
Patisserie Holdings plc, together with its subsidiaries, operates in the casual dining sector in the United Kingdom and the Republic of Ireland. The company's stores formats include cafés, concessions, brasseries, takeaways, kiosks, and an online channel. Its stores offer cakes, pastries, snacks, meals, and hot and cold drinks.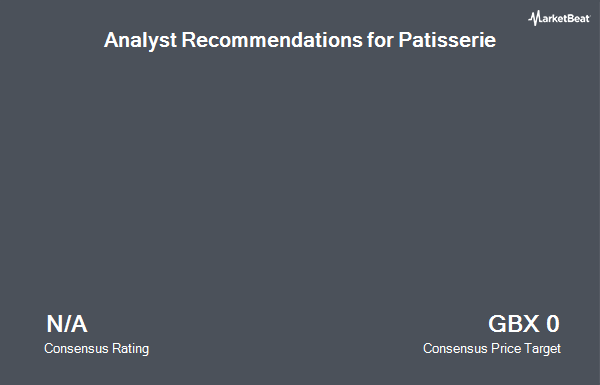 Receive News & Ratings for Patisserie Daily - Enter your email address below to receive a concise daily summary of the latest news and analysts' ratings for Patisserie and related companies with MarketBeat.com's FREE daily email newsletter.