Organovo (ONVO) Set to Announce Quarterly Earnings on Wednesday
Organovo (NASDAQ:ONVO) will be releasing its earnings data before the market opens on Wednesday, February 7th.
Organovo (NASDAQ:ONVO) last announced its quarterly earnings results on Thursday, November 9th. The medical research company reported ($0.09) earnings per share for the quarter, beating analysts' consensus estimates of ($0.10) by $0.01. Organovo had a negative net margin of 923.89% and a negative return on equity of 65.63%. The firm had revenue of $1.36 million during the quarter, compared to analysts' expectations of $1.38 million. The firm's revenue for the quarter was down 1.4% on a year-over-year basis. On average, analysts expect Organovo to post $0 EPS for the current fiscal year and $0 EPS for the next fiscal year.
Shares of Organovo (NASDAQ:ONVO) opened at $1.39 on Tuesday. Organovo has a 1 year low of $1.32 and a 1 year high of $3.85. The firm has a market cap of $148.62, a price-to-earnings ratio of -3.66 and a beta of 2.61.
A number of brokerages recently weighed in on ONVO.
Zacks Investment Research
raised shares of Organovo from a "hold" rating to a "buy" rating and set a $2.25 price target for the company in a research report on Wednesday, October 11th. Raymond James Financial cut shares of Organovo from an "outperform" rating to a "market perform" rating and set a $5.00 price target for the company. in a research report on Friday, November 10th. BTIG Research restated a "buy" rating and issued a $3.00 price objective on shares of Organovo in a research note on Thursday, November 16th. Finally, Citigroup lowered shares of Organovo to a "market perform" rating in a research note on Friday, November 10th. Two research analysts have rated the stock with a sell rating, three have assigned a hold rating and three have given a buy rating to the stock. The company currently has an average rating of "Hold" and an average price target of $3.60.
TRADEMARK VIOLATION WARNING: This piece was reported by Watch List News and is the sole property of of Watch List News. If you are accessing this piece on another domain, it was stolen and reposted in violation of US and international copyright and trademark law. The original version of this piece can be accessed at https://www.watchlistnews.com/organovo-onvo-set-to-announce-quarterly-earnings-on-wednesday/1847106.html.
Organovo Company Profile
Organovo Holdings, Inc is an early commercial-stage company focused on developing and commercializing functional human tissues. The Company focuses on the generation of three-dimensional (3D) human tissues, by utilizing its platform technology to create human tissue constructs in 3D. It is focused on development of products, including 3D human tissues used for the preclinical assessment of drug effects, including applications in predictive toxicology, absorption, distribution, metabolism, excretion (ADME), and drug metabolism and pharmacokinetics (DMPK); customized human tissues as living, dynamic models of human biology or disease, for use in drug discovery and development, and three-dimensional human tissues for clinical applications, such as blood vessels for bypass grafting, nerve grafts for nerve damage repair and functional tissue patches for the repair or replacement of damaged tissues and organs.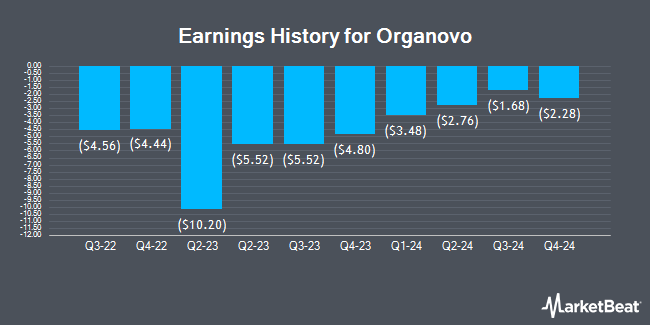 Receive News & Ratings for Organovo Daily - Enter your email address below to receive a concise daily summary of the latest news and analysts' ratings for Organovo and related companies with MarketBeat.com's FREE daily email newsletter.