Ooma Inc (OOMA) VP Sells $84,370.00 in Stock
Ooma Inc (NYSE:OOMA) VP James A. Gustke sold 5,500 shares of the company's stock in a transaction that occurred on Monday, December 3rd. The stock was sold at an average price of $15.34, for a total transaction of $84,370.00. Following the completion of the sale, the vice president now directly owns 127,275 shares of the company's stock, valued at $1,952,398.50. The sale was disclosed in a filing with the SEC, which is available at the SEC website.
Shares of OOMA stock traded down $0.29 during mid-day trading on Friday, reaching $13.92. The company's stock had a trading volume of 518 shares, compared to its average volume of 58,399. Ooma Inc has a 1-year low of $9.30 and a 1-year high of $17.50. The stock has a market cap of $279.50 million, a price-to-earnings ratio of -20.17 and a beta of 0.96.
Ooma (NYSE:OOMA) last announced its quarterly earnings data on Tuesday, November 27th. The technology company reported ($0.17) earnings per share (EPS) for the quarter, beating analysts' consensus estimates of ($0.20) by $0.03. Ooma had a negative net margin of 11.23% and a negative return on equity of 36.11%. The company had revenue of $32.61 million during the quarter, compared to analysts' expectations of $31.74 million. During the same quarter in the prior year, the company posted ($0.02) EPS. The business's revenue was up 14.4% on a year-over-year basis. On average, research analysts forecast that Ooma Inc will post -0.69 EPS for the current year.
Several hedge funds have recently made changes to their positions in OOMA. Engineers Gate Manager LP acquired a new position in shares of Ooma in the 2nd quarter valued at $157,000. Bank of Montreal Can raised its stake in shares of Ooma by 7,344.6% in the 3rd quarter. Bank of Montreal Can now owns 9,678 shares of the technology company's stock valued at $160,000 after buying an additional 9,548 shares in the last quarter. AQR Capital Management LLC acquired a new position in shares of Ooma in the 3rd quarter valued at $168,000. Trexquant Investment LP acquired a new position in shares of Ooma in the 2nd quarter valued at $173,000. Finally, GSA Capital Partners LLP acquired a new position in shares of Ooma in the 3rd quarter valued at $183,000. Institutional investors own 76.63% of the company's stock.
OOMA has been the subject of a number of research reports. B. Riley increased their price target on shares of Ooma from $15.50 to $20.00 and gave the company a "buy" rating in a report on Thursday, August 23rd. Credit Suisse Group initiated coverage on shares of Ooma in a report on Friday, August 10th. They issued a "neutral" rating and a $13.00 price target for the company. William Blair raised shares of Ooma from a "market perform" rating to an "outperform" rating in a report on Wednesday, November 28th. Finally, Zacks Investment Research upgraded shares of Ooma from a "hold" rating to a "buy" rating and set a $17.00 price objective for the company in a research note on Tuesday. Two analysts have rated the stock with a hold rating, four have assigned a buy rating and one has given a strong buy rating to the company. The company currently has an average rating of "Buy" and a consensus target price of $15.80.
WARNING: This piece was originally reported by Watch List News and is the sole property of of Watch List News. If you are accessing this piece on another domain, it was stolen and republished in violation of US & international trademark and copyright law. The legal version of this piece can be read at https://www.watchlistnews.com/ooma-inc-ooma-vp-sells-84370-00-in-stock/2667992.html.
About Ooma
Ooma, Inc provides communications solutions and other connected services to small business, home, and mobile users in the United States and Canadian markets. The company's Ooma Office, a multi-user communications system comprise an on-premise appliance and Ooma Linx end-point device that wirelessly connects regular desktop telephones and fax machines to the user's high-speed Internet connection; and Ooma Office Mobile HD app, which allows users to make, receive, and transfer phone calls.
Further Reading: What is a Call Option?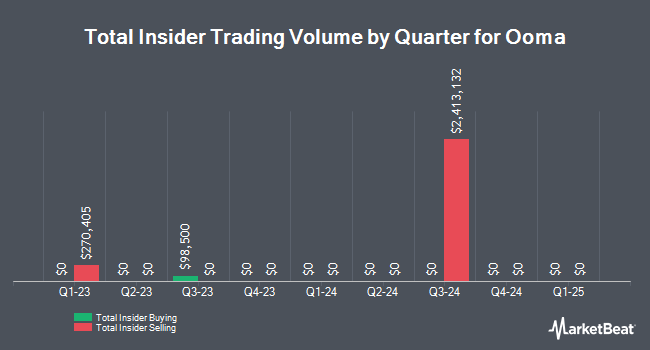 Receive News & Ratings for Ooma Daily - Enter your email address below to receive a concise daily summary of the latest news and analysts' ratings for Ooma and related companies with MarketBeat.com's FREE daily email newsletter.