Numis Securities Ltd Trims CRH plc (CRH) Target Price to GBX 3,000
CRH plc (LON:CRH) had its price target cut by Numis Securities Ltd from GBX 3,170 ($41.69) to GBX 3,000 ($39.46) in a research report issued on Wednesday. The firm currently has an "add" rating on the stock. Numis Securities Ltd's target price suggests a potential upside of 12.36% from the company's current price.
Several other analysts have also recently issued reports on CRH. Sanford C. Bernstein set a GBX 2,749 ($36.16) target price on CRH plc and gave the company a "neutral" rating in a report on Tuesday. Barclays PLC restated an "overweight" rating on shares of CRH plc in a report on Wednesday. Jefferies Group LLC restated a "buy" rating and issued a GBX 3,190 ($41.96) target price on shares of CRH plc in a report on Wednesday. Deutsche Bank AG restated a "hold" rating on shares of CRH plc in a report on Thursday, September 21st. Finally, UBS AG set a GBX 3,100 ($40.77) target price on CRH plc and gave the company a "buy" rating in a report on Tuesday, November 7th. Three equities research analysts have rated the stock with a hold rating and six have issued a buy rating to the stock. The stock has an average rating of "Buy" and a consensus target price of GBX 3,221.13 ($42.37).
Shares of CRH plc (LON:CRH) opened at GBX 2,670 ($35.12) on Wednesday. CRH plc has a twelve month low of GBX 2,297.70 ($30.22) and a twelve month high of GBX 3,342 ($43.96).
ILLEGAL ACTIVITY NOTICE: This piece was originally reported by Watch List News and is owned by of Watch List News. If you are viewing this piece on another website, it was illegally stolen and republished in violation of United States and international copyright and trademark law. The legal version of this piece can be accessed at https://www.watchlistnews.com/numis-securities-ltd-trims-crh-plc-crh-target-price-to-gbx-3000/1718991.html.
CRH plc Company Profile
CRH public limited company (CRH plc) is a building materials company. The Company's segments include Europe Heavyside, Europe Lightside, Europe Distribution, Americas Materials, Americas Products, Americas Distribution and Asia. Europe Heavyside segment is engaged in the manufacturing and supply of aggregates, asphalt, cement, readymixed and precast concrete and landscaping products.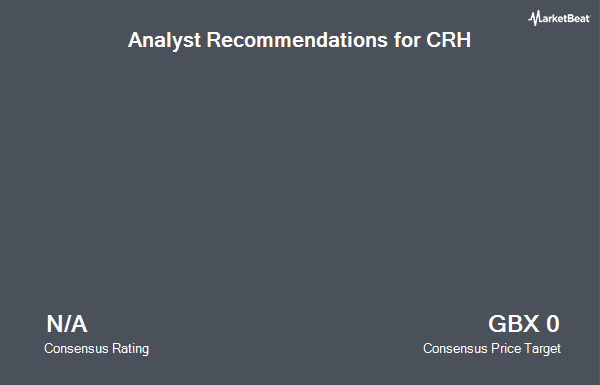 Receive News & Ratings for CRH plc Daily - Enter your email address below to receive a concise daily summary of the latest news and analysts' ratings for CRH plc and related companies with Analyst Ratings Network's FREE daily email newsletter.