Numis Securities Ltd Boosts The Sage Group plc (SGE) Price Target to GBX 861
The Sage Group plc (LON:SGE) had its price objective upped by Numis Securities Ltd from GBX 813 ($10.69) to GBX 861 ($11.32) in a research note published on Thursday morning, MarketBeat reports. They currently have an add rating on the stock.
A number of other brokerages have also recently commented on SGE. Deutsche Bank AG lifted their target price on The Sage Group from GBX 700 ($9.21) to GBX 740 ($9.73) and gave the stock a hold rating in a report on Friday, November 17th. Bryan, Garnier & Co upgraded The Sage Group to a buy rating and boosted their price objective for the company from GBX 720 ($9.47) to GBX 830 ($10.92) in a report on Friday, September 22nd. Credit Suisse Group restated a neutral rating and set a GBX 700 ($9.21) price objective on shares of The Sage Group in a report on Tuesday, October 10th. Barclays PLC restated an equal weight rating on shares of The Sage Group in a report on Thursday. Finally, Canaccord Genuity restated a sell rating and set a GBX 585 ($7.69) price objective on shares of The Sage Group in a report on Wednesday, July 26th. Three analysts have rated the stock with a sell rating, five have given a hold rating and six have issued a buy rating to the company. The company has a consensus rating of Hold and a consensus price target of GBX 756.93 ($9.96).
The Sage Group (LON SGE) opened at GBX 804.50 ($10.58) on Thursday. The Sage Group has a 1-year low of GBX 594.99 ($7.83) and a 1-year high of GBX 809.50 ($10.65).
WARNING: This news story was originally posted by Watch List News and is owned by of Watch List News. If you are accessing this news story on another publication, it was illegally copied and republished in violation of international copyright & trademark law. The legal version of this news story can be read at https://www.watchlistnews.com/numis-securities-ltd-boosts-the-sage-group-plc-sge-price-target-to-gbx-861/1726906.html.
About The Sage Group
The Sage Group plc is a United Kingdom-based company, which provides integrated accounting, payroll and payments solutions. The Company also provides the option of solutions hosted locally and accessed on-premise. The Company's segments include Europe, which consists of France, the United Kingdom and the Ireland, Spain, Germany, Switzerland, Poland, Portugal and Sagepay; North America, which consists of the United States and Canada, and International, which consists of Brazil, Africa, Australia, the Middle East and Asia.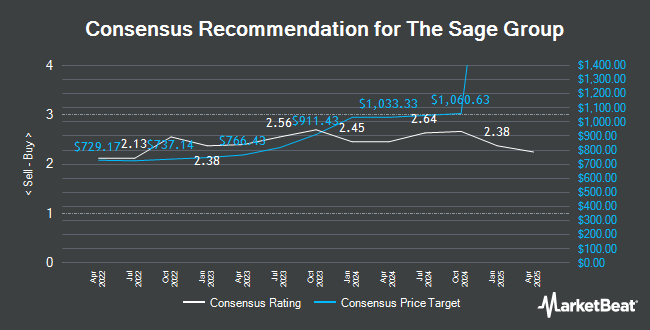 Receive News & Ratings for The Sage Group plc Daily - Enter your email address below to receive a concise daily summary of the latest news and analysts' ratings for The Sage Group plc and related companies with Analyst Ratings Network's FREE daily email newsletter.