Northrim BanCorp Inc (NRIM) Declares Quarterly Dividend of $0.22
Northrim BanCorp Inc (NASDAQ:NRIM) announced a quarterly dividend on Friday, August 25th, NASDAQ reports. Shareholders of record on Thursday, September 7th will be paid a dividend of 0.22 per share by the financial services provider on Friday, September 15th. This represents a $0.88 dividend on an annualized basis and a dividend yield of 2.95%. The ex-dividend date of this dividend is Wednesday, September 6th. This is an increase from Northrim BanCorp's previous quarterly dividend of $0.21.
Shares of Northrim BanCorp (NASDAQ:NRIM) opened at 29.85 on Friday. Northrim BanCorp has a 12 month low of $24.35 and a 12 month high of $33.00. The firm has a market capitalization of $206.26 million, a PE ratio of 14.85 and a beta of 0.59. The firm's 50 day moving average is $28.67 and its 200-day moving average is $29.82.
Northrim BanCorp (NASDAQ:NRIM) last posted its quarterly earnings data on Monday, July 31st. The financial services provider reported $0.51 EPS for the quarter, beating the Zacks' consensus estimate of $0.47 by $0.04. Northrim BanCorp had a net margin of 14.15% and a return on equity of 8.33%. The company had revenue of $23.96 million during the quarter, compared to the consensus estimate of $24.70 million. On average, analysts expect that Northrim BanCorp will post $2.51 EPS for the current fiscal year.
Separately, ValuEngine raised shares of Northrim BanCorp from a "hold" rating to a "buy" rating in a research note on Tuesday, August 8th.
COPYRIGHT VIOLATION WARNING: This news story was originally published by Watch List News and is the sole property of of Watch List News. If you are accessing this news story on another site, it was stolen and republished in violation of United States and international copyright law. The original version of this news story can be read at https://www.watchlistnews.com/northrim-bancorp-inc-nrim-declares-quarterly-dividend-of-0-22/1535822.html.
Northrim BanCorp Company Profile
Northrim BanCorp, Inc is a bank holding company. The Company operates in two segments: Community Banking and Home Mortgage Lending. The Community Banking segment's principal business focus is the offering of loan and deposit products to business and consumer customers in its primary market areas. The Community Banking segment operates approximately 10 branches throughout Alaska.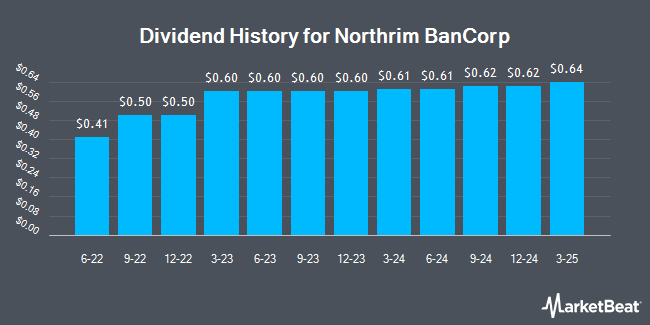 Receive News & Ratings for Northrim BanCorp Inc Daily - Enter your email address below to receive a concise daily summary of the latest news and analysts' ratings for Northrim BanCorp Inc and related companies with Analyst Ratings Network's FREE daily email newsletter.