Nordson Corporation (NDSN) Issues Q4 Earnings Guidance
Nordson Corporation (NASDAQ:NDSN) issued an update on its fourth quarter earnings guidance on Monday morning. The company provided EPS guidance of $1.18-1.32 for the period, compared to the Thomson Reuters consensus EPS estimate of $1.52. The company issued revenue guidance of +4-8% to ~$530-550 million, compared to the consensus revenue estimate of $565.83 million.
A number of brokerages have issued reports on NDSN. BidaskClub cut shares of Nordson Corporation from a strong-buy rating to a buy rating in a research note on Friday. Zacks Investment Research cut shares of Nordson Corporation from a buy rating to a hold rating in a research note on Thursday, May 25th. Wells Fargo & Company reissued a market perform rating and set a $130.00 price objective (up from $122.00) on shares of Nordson Corporation in a research note on Thursday, May 25th. Wellington Shields raised shares of Nordson Corporation from a hold rating to a gradually accumulate rating in a research note on Friday, June 2nd. Finally, FBR & Co reissued an outperform rating on shares of Nordson Corporation in a research note on Tuesday, July 11th. Six analysts have rated the stock with a hold rating and seven have given a buy rating to the company's stock. Nordson Corporation presently has a consensus rating of Buy and an average target price of $115.50.
Nordson Corporation (NDSN) traded up 0.80% during trading on Monday, hitting $125.12. 446,906 shares of the company traded hands. The firm has a 50 day moving average of $124.86 and a 200 day moving average of $122.43. Nordson Corporation has a one year low of $90.14 and a one year high of $131.49. The firm has a market cap of $7.21 billion, a P/E ratio of 26.37 and a beta of 1.35.
Nordson Corporation (NASDAQ:NDSN) last released its earnings results on Monday, May 22nd. The industrial products company reported $1.35 EPS for the quarter, beating the Thomson Reuters' consensus estimate of $1.30 by $0.05. The firm had revenue of $496.14 million during the quarter, compared to analysts' expectations of $470.12 million. Nordson Corporation had a net margin of 14.43% and a return on equity of 33.39%. The business's quarterly revenue was up 13.4% compared to the same quarter last year. During the same period in the prior year, the company earned $1.23 EPS. On average, analysts expect that Nordson Corporation will post $5.40 earnings per share for the current fiscal year.
The firm also recently disclosed a quarterly dividend, which will be paid on Tuesday, September 5th. Stockholders of record on Tuesday, August 22nd will be paid a $0.30 dividend. This is a boost from Nordson Corporation's previous quarterly dividend of $0.27. The ex-dividend date of this dividend is Friday, August 18th. This represents a $1.20 dividend on an annualized basis and a dividend yield of 0.96%. Nordson Corporation's dividend payout ratio is currently 25.32%.
TRADEMARK VIOLATION NOTICE: This news story was first posted by Watch List News and is owned by of Watch List News. If you are accessing this news story on another website, it was stolen and reposted in violation of U.S. & international trademark and copyright legislation. The correct version of this news story can be read at https://www.watchlistnews.com/nordson-corporation-ndsn-issues-q4-earnings-guidance/1513934.html.
Nordson Corporation Company Profile
Nordson Corporation engineers, manufactures and markets differentiated products and systems used to dispense, apply and control adhesives, coatings, polymers, sealants, biomaterials, and other fluids, to test and inspect for quality, and to treat and cure surfaces. The Company's segments include Adhesive Dispensing Systems, Advanced Technology Systems and Industrial Coating Systems.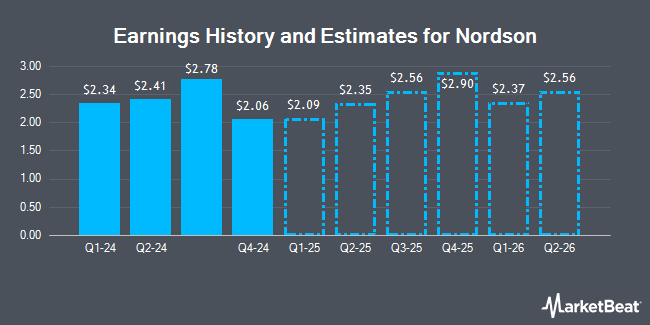 Receive News & Ratings for Nordson Corporation Daily - Enter your email address below to receive a concise daily summary of the latest news and analysts' ratings for Nordson Corporation and related companies with Analyst Ratings Network's FREE daily email newsletter.