National Bank Financial Weighs in on MCAN Mortgage Co.'s Q3 2018 Earnings (MKP)
MCAN Mortgage Co. (TSE:MKP) – National Bank Financial decreased their Q3 2018 EPS estimates for shares of MCAN Mortgage in a research note issued to investors on Monday, September 24th. National Bank Financial analyst J. Gloyn now forecasts that the company will earn $0.40 per share for the quarter, down from their previous estimate of $0.41. National Bank Financial also issued estimates for MCAN Mortgage's Q4 2018 earnings at $0.36 EPS, FY2018 earnings at $1.68 EPS, FY2019 earnings at $1.49 EPS and FY2020 earnings at $1.57 EPS.
MCAN Mortgage (TSE:MKP) last announced its earnings results on Thursday, August 9th. The company reported C$0.47 earnings per share (EPS) for the quarter, hitting analysts' consensus estimates of C$0.47. MCAN Mortgage had a net margin of 39.86% and a return on equity of 14.76%.
Shares of
MCAN Mortgage stock
opened at C$17.19 on Thursday. MCAN Mortgage has a 12-month low of C$15.36 and a 12-month high of C$19.46.
The company also recently announced a quarterly dividend, which will be paid on Wednesday, January 2nd. Investors of record on Friday, December 14th will be given a dividend of $0.32 per share. This represents a $1.28 dividend on an annualized basis and a dividend yield of 7.45%. The ex-dividend date is Thursday, December 13th.
MCAN Mortgage Company Profile
MCAN Mortgage Corporation operates as a mortgage investment corporation in Canada. It issues term deposits; and originates residential first-charge mortgage products. The company focuses on investing its funds in a portfolio of mortgages, including single family residential, residential construction, non-residential construction, and commercial loans, as well as other types of financial investments, loans, and real estate investments.
Recommended Story: Marijuana Stocks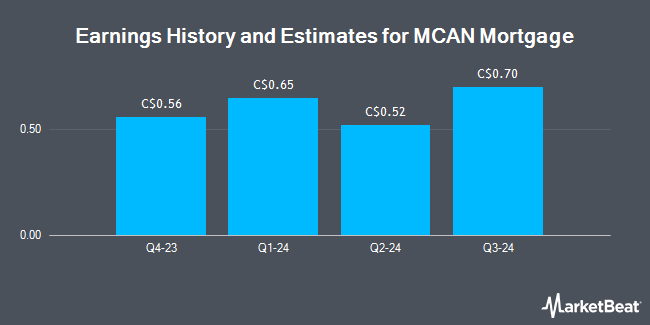 Receive News & Ratings for MCAN Mortgage Daily - Enter your email address below to receive a concise daily summary of the latest news and analysts' ratings for MCAN Mortgage and related companies with MarketBeat.com's FREE daily email newsletter.